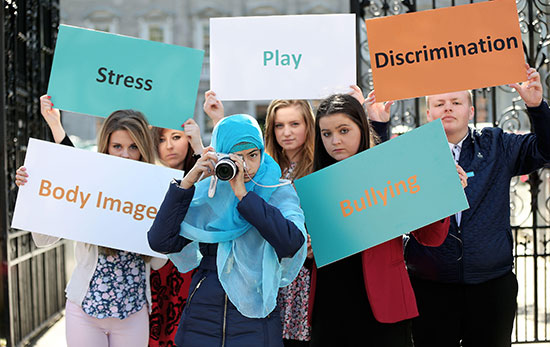 Put your rights into action!
We're calling on children and youth around Ireland to share pictures of your world.
Take photos of your friends, your school, your life. Think about people, places and supports that matter to you.
We want to know what's important to you.
Together we'll build a picture of what it's like to grow up in Ireland and make sure all your views are shared.

Download our latest report
We want your views and ideas for change - Is Ireland a good place to grow up? How can we make it better?
Here's how
Take a photo & upload it
Capture a photo that says something important about children's rights in Ireland. Explore the themes below for ideas. Give your photo a title and a caption (max. 30 words) explaining its meaning for you. Post it on Instagram with #pictureyourrights and a hashtag of the relevant theme or email us. Remember you need to be over 13 to join Instagram.
Follow us on Instagram at PictureYourRights.
Write, Draw or Video
If you prefer to write, draw or video your views, you can do that too. Share with us your ideas in whatever way best suits you. Send them to us by email or by post.
Practical things
Children's Rights Themes
All children have special rights, from the very day they are born. These rights are contained in the UN Convention on the Rights of the Child. These rights help you live a happy life and give you the best start for a bright future. The rights have been agreed on by almost every country in the world, including Ireland. So let us know if you feel your rights and the rights of other children and young people in Ireland are being met. Below is a list of themes to help you reflect on what your rights look and feel like. By sharing your views and recommendations we can advise our government on how to make Ireland a better place for everyone.
Children's Rights for Younger Ages
Gallery
Your Instagram submissions