Children's rights and climate front and centre of this year's Global initiative on SDGs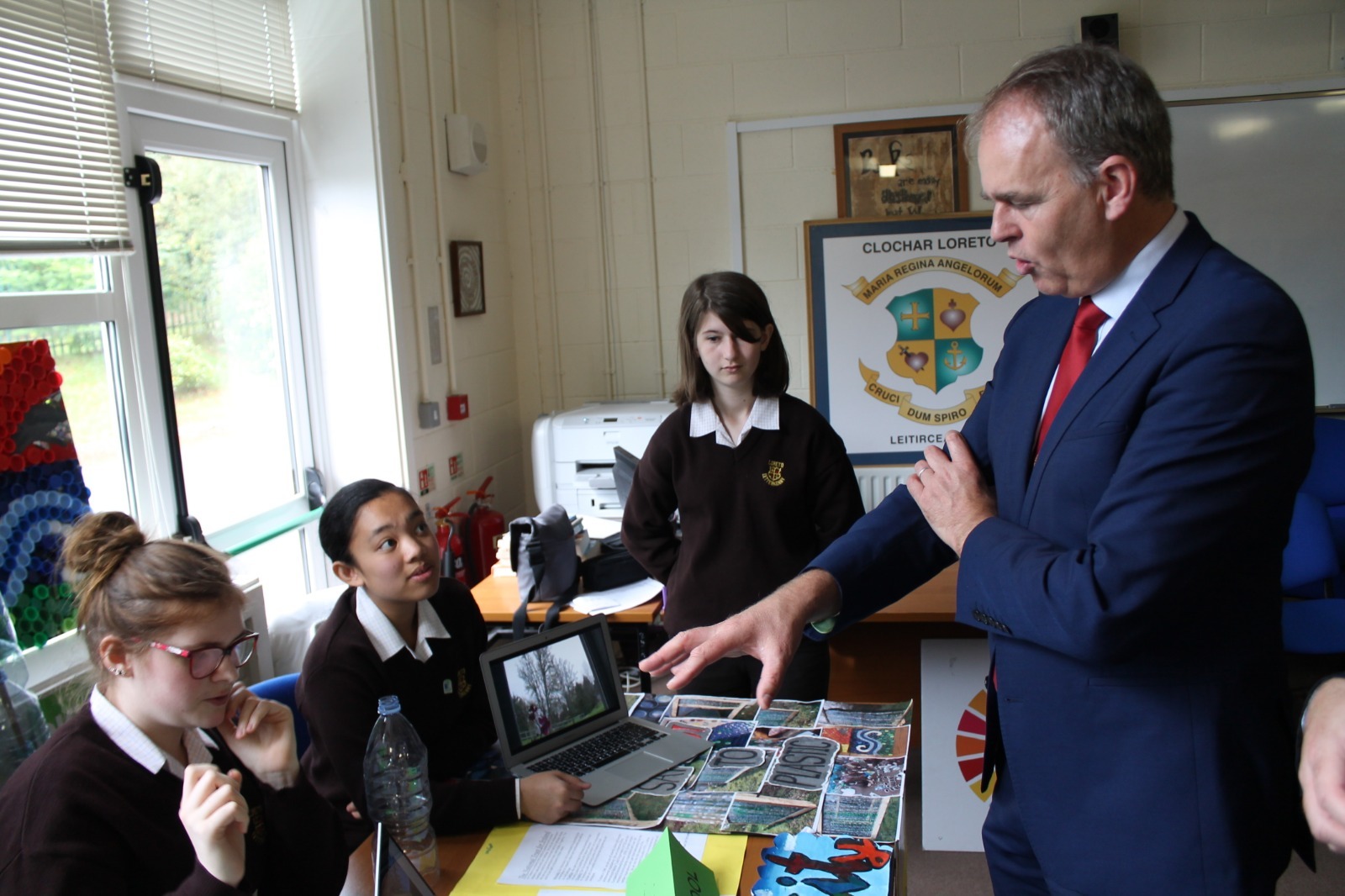 LETTERKENNY, CO. DONEGAL/DUBLIN 30 September 2019 – In Co. Donegal today, Minister for Education, Joe McHugh T.D. took part in the World's Largest Lesson, along with secondary school students from Loreto Letterkenny, and a team from UNICEF Ireland. This event, part of a Global annual initiative, involves millions of children in 130 countries learning about and taking action on the Sustainable Development Goals (SDGs (also known as The Global Goals)).
This is a big year for children's rights. As we approach the 30th Anniversary of the Convention on the Rights of the Child, World leaders – led by nations, including Ireland – last week's publicly recommitted to children's rights at a United Nations General Assembly dominated by climate change. Nations will now consider how to move the child rights agenda forward in their own countries ahead of World Children's Day on November 20th. Developments come as children and young people worldwide demand leaders take action to protect their future, with some four million of them estimated to have taken part in September's Climate Strike events in more than 160 countries.
UNICEF Ireland is working with the Government to ensure young people have engagement in the climate debate. Today, in partnership with the World's Largest Lesson, UNICEF is asking young people to reflect on the progress made over the last 30 years on child rights, while also considering the challenges that children worldwide now face.
Monday motivation
Against this backdrop, Minister McHugh spent Monday with a group of students from Loreto Letterkenny, in Co. Donegal taking part in a World's Largest Lesson focusing on the links between child rights and the SDGs.
UNICEF and its partners launched the World's Largest Lesson as part of a commitment to inform Irish people about The Global Goals, which were adopted by the UN General Assembly four years ago, in September 2015. The Global Goals are a series of 17 ambitious targets that aim to end extreme poverty, fight inequality and injustice, and fix climate change by 2030.
Minister for Education Joe McHugh T.D. said: "UNICEF's targeted worldwide initiative and the focus on climate and children's rights is responding to the calls that we are seeing from young people.
"It is an honour to have been asked to share in their day and promote the idea of bridging the gap between learning and action. There is an onus on all of us to inspire children and young people, to listen to their call and to explore the personal changes they can make in the world around them."
Right to be heard
Under the Convention on the Rights of the Child, children have a right to speak and be heard. UNICEF works to support young people participate in discussions on the issues that directly affect them, working in partnership with leaders to secure access to decision-makers and key processes.
UNICEF Ireland Executive Director Peter Power said: "World's Largest Lesson is a global initiative, meaning millions of young people all over the world are having the same conversations. The SDGs are central to UNICEF's work on children's rights, both in Ireland and around the world. As we celebrate 30 years of the CRC, let's also look ahead to what we must do to continue translating rights into results. If we are to build a world where every child is both prioritised and protected, we must put children first- especially as governments are seeking ways to live up to their commitments under the Sustainable Development Goals."
Mr. Power continued: "I would like to thank the Minister for Education, Joe McHugh, for his clear dedication to children, their education and rights and The Global Goals."
Global initiative
Irish school children are joining millions of girls and boys in more than 130 countries to take part in this year's World's Largest Lesson. Together they are learning about The Global Goals' key targets, such as achieving gender equality, tackling climate change, ending extreme poverty and giving all children a quality education.
The World's Largest Lesson provides a unique opportunity to foster global citizenship in schools. It supports student learning across a range of subject areas such as science, geography, citizenship and technology, and helps teachers explore human rights, poverty and climate change.
To read more about World's Largest Lesson in Ireland in previous years visit this page.
ENDS
###
Notes for editors:
About the Sustainable Development Goals
In September 2015, all 193 members of the United Nations adopted the Sustainable Development Goals (SDGs), or 'Global Goals' as they are commonly known. This 'Agenda for 2030' is comprised of 17 Goals to drive development over the next 15 years by. collectively ending extreme poverty, tackling climate change, and fighting inequalities. Each Goal offers clear and measurable targets for countries and citizens to respond to the call to action to meet the Goals by the year 2030.
About World's Largest Lesson
World's Largest Lesson introduces the Sustainable Development Goals to young people everywhere and unites them in action. World's Largest Lesson and UNICEF are partner organisations.
As a founding partner of the World's Largest Lesson, UNICEF leveraged its global presence and networks, to play a critical role in bringing The Global Goals' messages in 25 languages to more than 500 million girls and boys in over 160 countries during the initiative's pilot launch in 2016.
For more information, including images and video visit World's Largest Lesson website
To join the conversation about SDGs, hashtag #WorldsLargestLesson #TeachSDGs #GlobalGoals
About UNICEF
UNICEF works in the world's toughest places, to reach the world's most disadvantaged children. Across more than 190 countries and territories, we work for every child, everywhere, to build a better world for everyone. For more information about UNICEF and its work, visit our website.
Follow us on Twitter and Facebook
For more information please contact:
Aedín Donnelly, Communications and Media Manager for UNICEF Ireland | aedin@unicef.ie | Tel: +353 1 878 3000 | Mob: +353 85 1395272