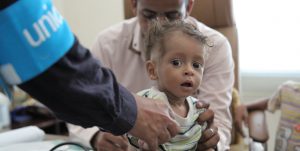 A young child is assessed for malnutrition at a UNICEF supported clinic in Yemen.
Malnutrition is more than a lack of food – it is a combination of factors: insufficient protein, energy and micronutrients, frequent infections or disease, poor care and feeding practices, inadequate health services, and poor water and sanitation.
Severe Acute Malnutrition: a desperately thin and wasted child, at imminent risk of death.
Stunting: a child who never reaches full physical and mental development due to poverty, poor sanitation, lack of breastfeeding and limited access to nutritious foods.
A young woman who becomes anaemic during her pregnancy and gives birth to an underweight baby who later faces developmental delays
A child rendered blind by vitamin A deficiency
A child who becomes obese through overconsumption of low-quality food
Severe acute malnutrition is the most extreme and visible form of undernutrition. Its face is a child – frail and skeletal – who requires urgent treatment to survive.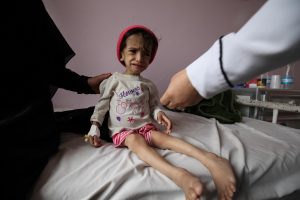 Ready-to-use therapeutic food (RUTF) is a high-energy, micronutrient enhanced paste used to treat children under age 5 who are affected by severe acute malnutrition.  RUTF does not need to be cooked or prepared before consumption. This makes it a practical solution where cooking facilities and fuel are limited. RUTF has a long shelf life and is safe for use even in the absence of clean drinking water.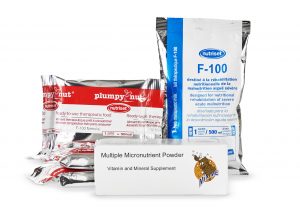 No amount of food can cure a stunted child. Good nutrition must start early to prevent stunting before it starts. Chronic malnutrition early in life leads to stunting, which prevents children's bodies and brains from growing to reach their full potential. The damage caused by stunting is irreversible and has far reaching consequences, from diminished learning and school performance, to lower future earnings.
Prevention and long-term solutions involve improving equitable access to health services and nutritious foods, promoting breastfeeding and optimal infant and young child feeding practices, improving water and sanitation, and planning for cyclic food shortages and emergencies.