Young people identify school, career and climate as top stressors
*NOTE* For a county by county breakdown, the questions and graphics, visit Ureport.ie*
DUBLIN 10 October 2019 – 97% of young people who took part in a poll run by UNICEF Ireland report mental health as an issue for their peer group.
The biggest stressor for the group is thinking about their future (54%), followed by relationships (31%) and identity (15%).
Ahead of World Mental Health Day (10 Oct), 445 people participated in a U-Report survey sent out by the child rights organisation on October 3. 85% of respondents were aged between 15 and 19.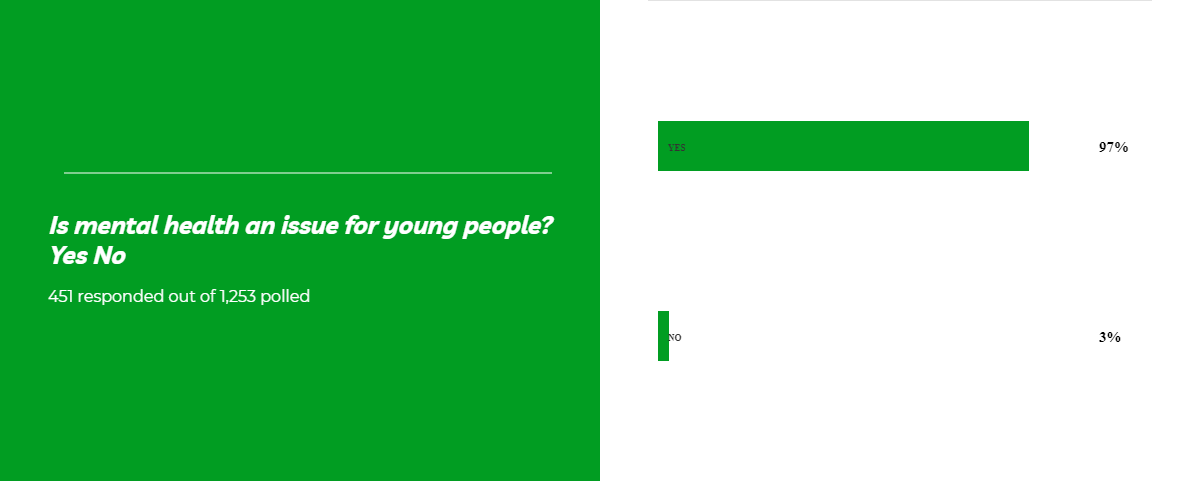 Future fears
Included in 'future' category were concerns about school, jobs, climate and Brexit. Interestingly, the breakdown of responses on this topic shows most young people (40%) rate school as their biggest worry, followed by employment (35%), then climate (23%) and, lastly, Brexit (2%).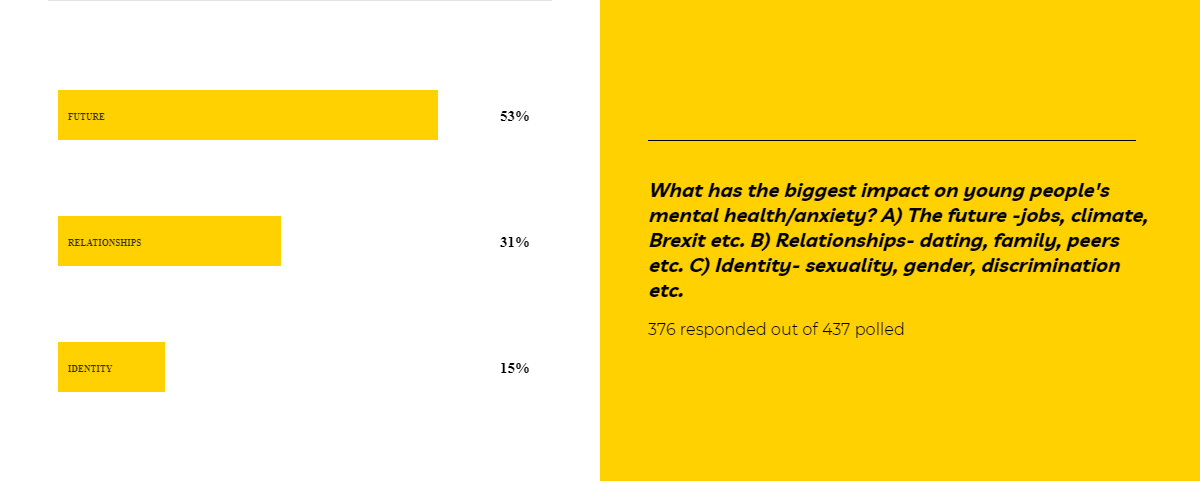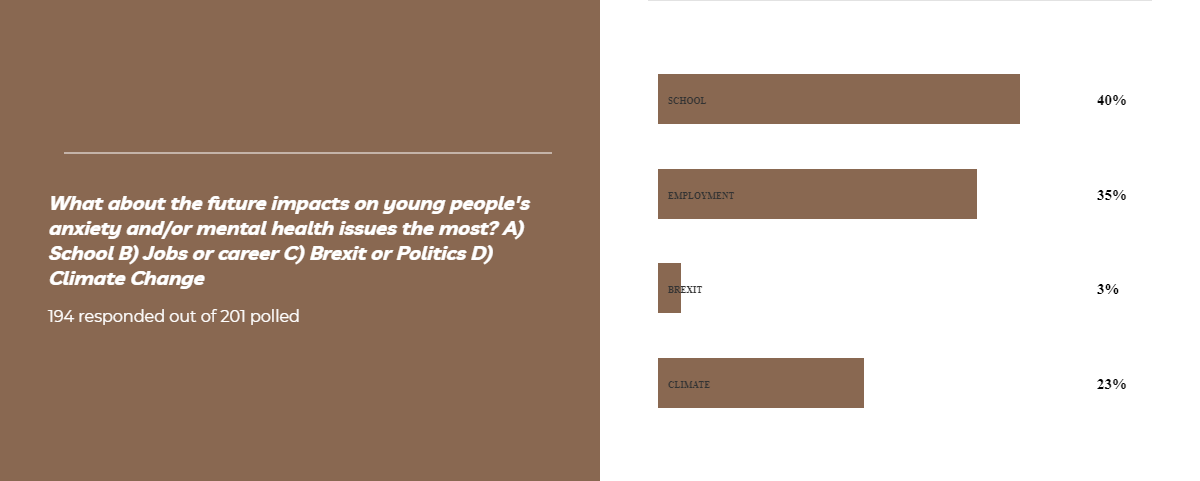 Identity struggles
For those concerned about 'identity', 48% said that related to 'figuring out who they are', 28% worried about discrimination or bullying and 24% had concerns about sexuality or gender.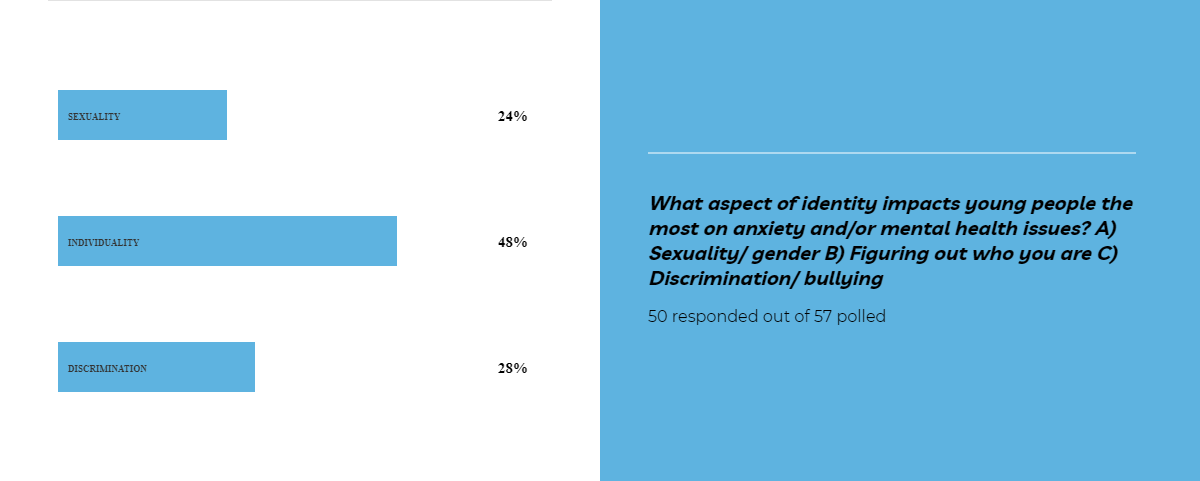 Relationship stress
On 'relationships', a third of young people (34%) said relationships with friends and peers had the biggest impact on young people's anxiety and/or mental health issues. Less than a third (28%) said partners had the biggest impact, while the remaining young people (23%) thought family had the biggest impact. Relationships online were only identified as stressors by 9% of respondents.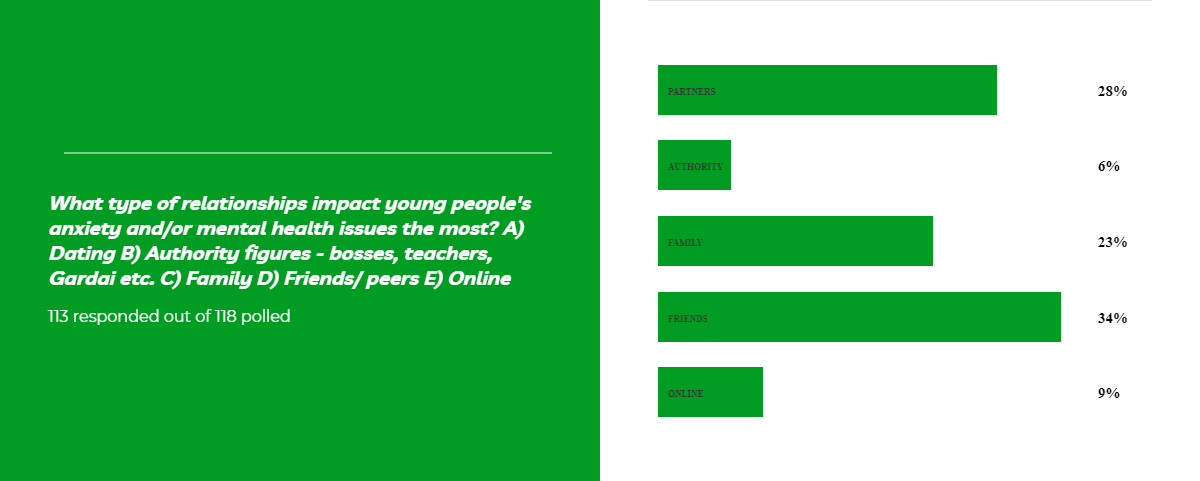 More girls were concerned about mental health than boys, with 226 classifying it as an issue against 171 boys.
Revealing comments
Anonymous participants were asked to identify stressors. Comments include:
"High expectations in school, and social media" – Female 19
"Inability to control future. Money uncertainty and job uncertainty" – Female 19
"School and love especially if you are LGBTQI" – No Gender 18
Ireland's 1,253 U-Reporters are joined on the not-for-profit platform by over 8 million other young people in 62 countries. U-Reporters' contributions are collected and made available in order to give young people access to public platforms to have their views on children's rights heard.
ENDS
###
Notes for editors:
About U-Report 
U-Report is an anonymised youth polling tool run by UNICEF. 1,254 U-Reporters in Ireland received this poll, via text and social media, after signing up for the service. 447 responded, giving a response rate of 36%, a margin of error of less than 5% and a confidence level of 95%. Full results at ureport.ie
All U-Reporters give their consent to participate in survey and their subsequent publicity.
U-Report participants in the mental health poll were given information about organisations supporting young people with mental health issues via phoneline and online before they completed the exercise.
Learn more about how U-Report is empowering and connecting young people to speak out on issues that matter to them.
To join, Like the UReport Facebook page or Follow @UReportIRL on Twitter.
About UNICEF 
UNICEF works in the world's toughest places, to reach the world's most disadvantaged children. Across more than 190 countries and territories, we work for every child, everywhere, to build a better world for everyone.
For more information about UNICEF and its work, visit our website.