Donegal teen stages #KidsTakeOver of Taoiseach's office
Third annual UNICEF takeover held in celebration of World Children's Day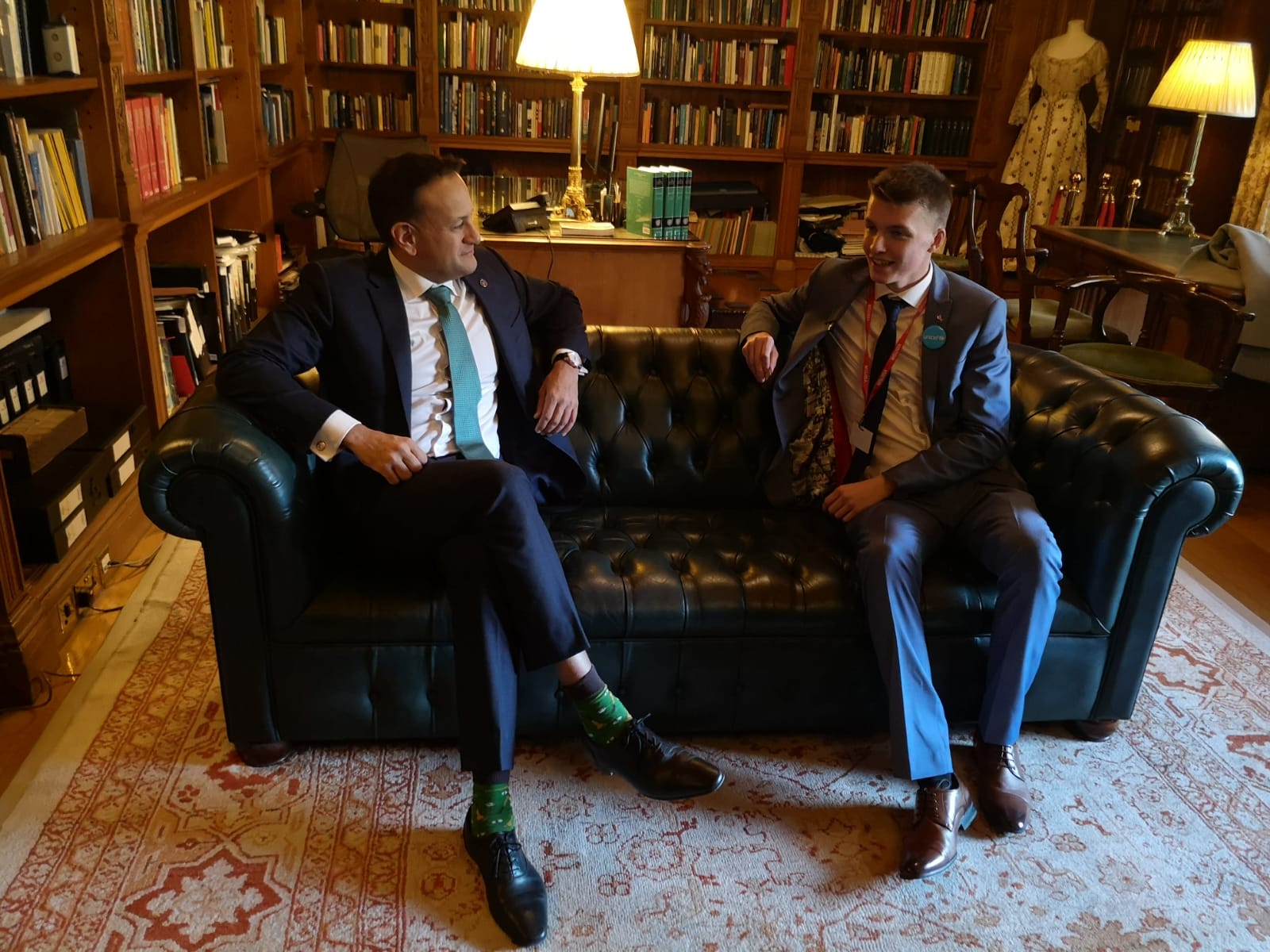 An Taoiseach Leo Varadkar with UNICEF Ireland's #KidsTakeOver winner Charles John Gallager at Farmleigh House, Dublin, November 15
DUBLIN 15 November 2019 – A Donegal teenager with political ambitions is set to 'take over' the Taoiseach's office as part of UNICEF's World Children's Day celebrations today.
Sixth Year student Charles John Gallagher (18) is staging a #KidsTakeOver of An Taoiseach Leo Varadkar's role in the run up to World Children's Day (November 20). Charles will spend the day shadowing the Taoiseach, attending the British Irish Council at Farmleigh House in Dublin before travelling to Government Buildings to see the inner workings of the Taoiseach's office.
World Children's Day is UNICEF's global day of action for children, by children. It is a fun day with a serious message. On hearing he was #KidsTakeOver winner Charles said: "I can't believe it. I want to be Taoiseach in the future. This is a dream come true!"
A normal Friday would see the Leaving Cert student in school, but today he will meet with high level politicians from Britain and Europe, alongside the Taoiseach. Charles says he is very excited: "I became interested in politics in 2017 because of Brexit, and my concerns about what that would mean for Ireland and the border region, where I am from.
Charles won UNICEF Ireland's 2019 #KidsTakeOver competition after he submitted a video describing the changes he would make as leader in order to protect young people's future.
During a private meeting with the Taoiseach, Charles will address issues around young people's well-being in school. Within the school environment he wants to see greater supports for students in the areas of youth mental health, learning disabilities and dealing with exam pressures. He wants young people right across the country to be given access to the same standardised supports and courses, regardless of where the young person lives.
UNICEF Ireland Executive Director Peter Power said: "UNICEF believes in the child's right to be heard, and to participate. We are delighted to facilitate a young person to engage with the leader of the country for the third year in a row. In doing so, Charles becomes part of a proud tradition of UNICEF youth activism."
UNICEF, the UN's children's agency, demands that every child, has every right. This year, the 30th Anniversary of the Convention on the Rights of the Child makes World Children's Day celebrations extra special but UNICEF's work to identify and address newly emerging risks to children's rights, like the climate crisis, continues.
ENDS
###
Notes for editors:
This press release is under embargo until 00.01 Friday November 15.
About Charles 
Charles John Gallagher (18) is a Sixth-Year student from a small town in the North West of County Donegal. Charles is hugely interested and engaged in politics – his future plans include becoming Taoiseach! He is currently involved with his school's Student Council and he works with the Irish Second-Level Students' Union, Jigsaw's Donegal Youth Advisory Panel and the National Youth Council.
He says he would like to run for local elections as the first step in a possible future political career, along a path to Leinster House or the European Parliament.
About UNICEF 
UNICEF works in the world's toughest places, to reach the world's most disadvantaged children. Across more than 190 countries and territories, we work for every child, everywhere, to build a better world for everyone.
For more information about UNICEF and its work, visit our website. 
Follow us on Twitter and Facebook
For more information, please contact:
Aedín Donnelly, Communications and Media Manager for UNICEF Ireland | aedin@unicef.ie | Tel: +353 1 809 0266 | Mob: +353 85 1395272
WCD 2019 – Graphic 05 – EN