This World Children's Day, governments renew commitment to child rights, children take over key roles and famous landmarks go blue as Convention on the Rights of the Child turns 30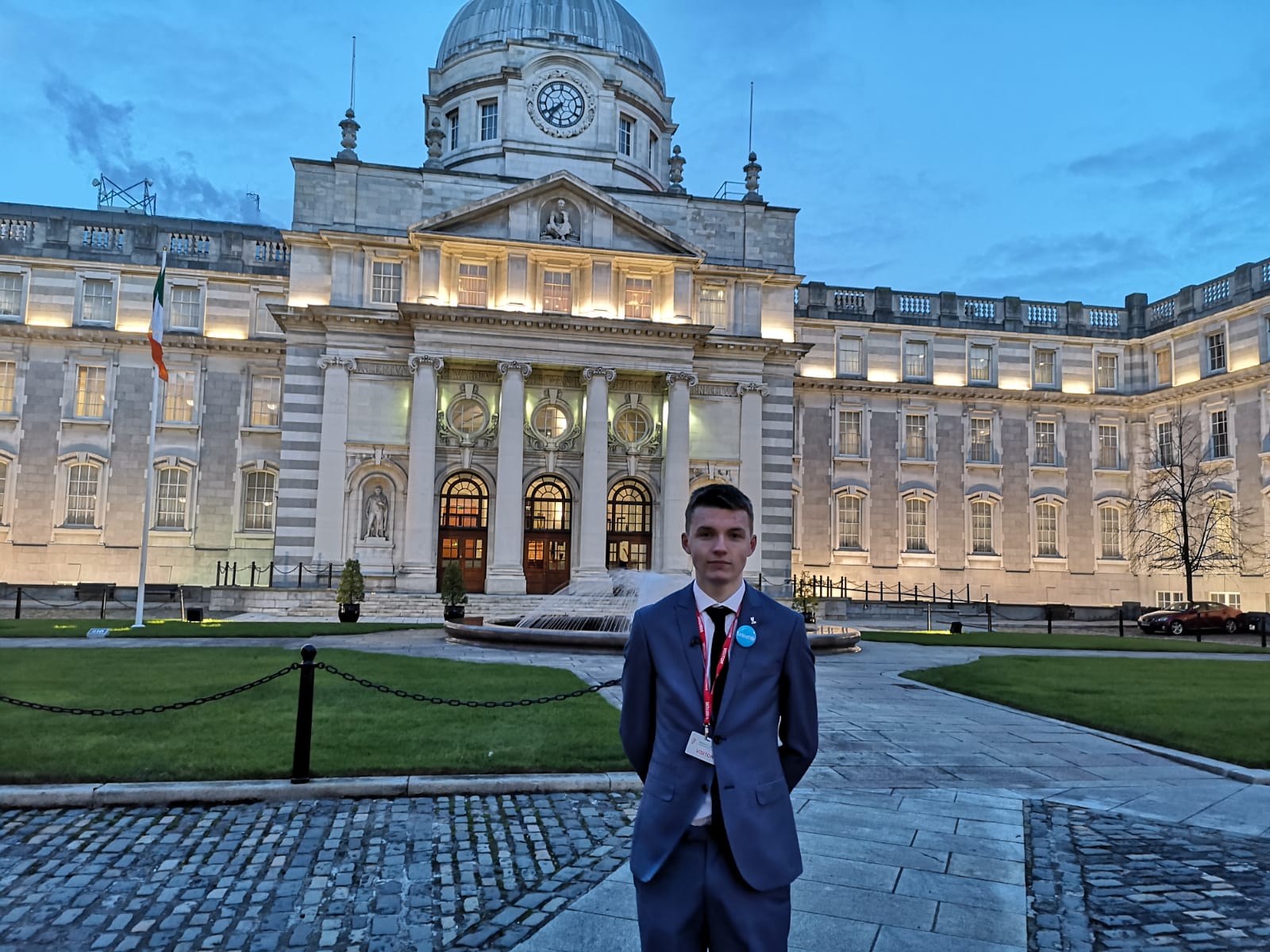 Once available, videos and photos of events can be downloaded here
DUBLIN/NEW YORK, 20 November 2019 – UNICEF Goodwill Ambassadors David Beckham and Millie Bobby Brown will headline a global summit at the United Nations Headquarters in New York where they will join children and young people in demanding action to protect and promote child rights.
The UNICEF summit is part of Global celebrations to mark World Children's Day – including here in Ireland – which this year coincides with the 30th anniversary of the adoption of the Convention on the Rights of the Child, the most widely ratified human rights treaty in history. Children will participate in similar summits in more than 50 countries, from Armenia to Jordan and from Ethiopia to Indonesia.
"Children everywhere dream of a better future," said David Beckham who will open the global summit. "I have worked with UNICEF for almost 20 years and I have met children in all corners of the world, young people that have ambitions for a better education, a life free from disease and for peace. All children deserve the opportunity to reach their potential and I'm very proud to support the young people speaking up for change today."
"Young people my age are facing so many new challenges today that 30 years ago were hard to predict," said Millie Bobby Brown, UNICEF's youngest Goodwill Ambassador. "I'm proud to add my voice to all those around the world who are asking for solutions to today's problems such as bullying, access to education, mental health awareness, suicide prevention and climate change."
World Children's Day – celebrated on 20th November every year – aims to raise awareness and funds for the millions of children that are denied their right to adequate health care, nutrition, education and protection.
For this year's celebration, United Nations Member States have been invited to align to a Global Pledge promising to renew their commitment to the Convention on the Rights of the Child and implement child rights fit for the 21st century – Ireland was one of the first nations to sign.
"Around the world, children and young people are taking the lead and demanding urgent action on the issues they care about, like the climate crisis, the rise of mental illness and the lack of opportunities," said UNICEF Executive Director Henrietta Fore. "This World Children's Day provides world leaders with a momentous opportunity to heed these calls and recommit to the rights of every child now and for future generations."
In a global day of action around the world, children will be hosting summits with leaders and decision-makers and taking over high-profile roles in government, sport and business. In a symbolic stand for child rights, famous landmarks around the world will also turn blue.
Global activities include:
• At the United Nations Headquarters in New York, UNICEF Goodwill Ambassadors David Beckham and Millie Bobby Brown will host a global summit where children will call on world leaders to fulfil their commitments to realise child rights. More than 50 national summits will take place with government representatives around the world, including in Armenia, Ethiopia, Germany, Indonesia, Jordan, Laos, Rwanda, Suriname and Tanzania.
• Ahead of, and in celebration of World Children's Day, An Taoiseach, Leo Varadkar, hosted a 'Kids Takeover' of his office for the third year running*. This year, Donegal teenager Charles John Gallagher staged the takeover, bringing issues around global education, mental health and the urban/rural divide to the attention of the Taoiseach.
• In countries around the world, children will be actively participating in parliaments including European Parliament in Brussels, Cabo Verde, Comoros, India, Jamaica, Kyrgyzstan, Madagascar, Malaysia and Turkey.
• At the Palais des Nations in Geneva, a three-day celebration on 18, 19, 20 November together with OHCHR, the UN CRC and 30 Years of Child Rights Association will welcome the participation of UN High Commissioner for Human Rights, Ms. Michelle Bachelet.
• Iconic landmarks will light up blue, including the European Parliament in Brussels, Shanghai Tower in China, Panthéon in France, Acropolis of Athens in Greece, Peace Palace in the Hague, Netherlands, Rashtrapati Bhavan in India, Petra in Jordan, Frida Kahlo House in Mexico, Al Noor Mosque in Christchurch, New Zealand, Panama Canal in Panama, Monument for African Renaissance in Senegal and The Bridges on the Bosphorus in Turkey.
• More than 80 organizations globally and locally will show their support for child rights, including Amadeus, Beko, Change for Good (EasyJet, Qantas, Asiana, Cathay, Cebu, American Airlines, Japan Airlines, Aer Lingus), FC Barcelona, H&M, IKEA, ING, Johnson & Johnson, Kahoot!, LEGO, Louis Vuitton, Nordic Choice Hotels, Norwegian Airlines, Pandora, SAP, South African Airways, Telenor, Vivendi (brand owners of the iconic bear Paddington™") and WWE.
• In Chad, Ethiopia, Equatorial Guinea, Haiti, Lesotho, Namibia, Turkmenistan and elsewhere, children will take over newsrooms and newspapers to report on issues that matter to them.
• Global sports stars will be supporting children's right to play, including Al Ahly SC in Egypt, Galatasaray, Fenerbahce and Besiktas Football Clubs in Turkey and in Turkmenistan, children with disabilities will join the Turkmenistan vs Sri Lanka World Cup Qualification, AFC, Round 2.
• In Norway, UNICEF has collaborated with EMBL´s European Bioinformatics Institute, Twist Bioscience and Imagene SA to code the Convention on the Rights of the Child into synthetic DNA. The resultant DNA will be stored under permafrost at the Arctic World Archive in Svalbard, making the CRC the world's first document to be stored this way and securing it for millions of years. DNA sequence for CRC will also be made available in the European Nucleotide Archive as a proof of authenticity.
• Thousands of children around the world have been learning about their rights and the Sustainable Development Goals with the World's Largest Lesson, including in Ireland, the United Kingdom, Bulgaria, El Salvador, Laos, Nigeria, Pakistan, Senegal, Spain, Eswatini, and others.
• For young people to have fun and learn more about their rights, UNICEF Latin America and the Caribbean has created a mobile game app, Right Runner, with each level highlighting a specific right from the Convention on the Rights of the Child. It is available to download globally in English and Spanish via Google Play and Apple Store.
• UNICEF Norway has collaborated with Kahoot!, a game-based learning platform popular with teachers in classrooms around the world, to develop and launch three Convention on the Rights of the Child games. The games are available in 17 languages and anyone can access them through Kahoot! website or mobile app.
UNICEF is asking supporters to raise their voices in solidarity with the most disadvantaged and vulnerable children by helping 'turn the world blue' on 20 November – by doing or wearing something blue at school, on the streets, on social media, in boardrooms and on sports fields.
ENDS
###
Notes for Editors
*Further information on UNICEF Ireland's #KidsTakeOver of the Taoiseach's office on Friday 15th November here.
About UNICEF
UNICEF works in the world's toughest places, to reach the world's most disadvantaged children. Across more than 190 countries and territories, we work for every child, everywhere, to build a better world for everyone.
For more information about UNICEF and its work, visit our website.
Follow us on Twitter and Facebook
For more information, please contact:
Aedín Donnelly, Communications and Media Manager for UNICEF Ireland | aedin@unicef.ie | Tel: +353 1 809 0266 | Mob: +353 85 1395272
Helen Wylie, UNICEF New York, Tel: +1 917 244 2215, hwylie@unicef.org