A more family-friendly workplace is essential to children's wellbeing and will be critical to post-pandemic recovery, Chambers Ireland and UNICEF Ireland say in joint statement
DUBLIN 23.03.21 – Chambers Ireland and UNICEF Ireland have together issued a call to action for more family-friendly workplaces.
The COVID-19 pandemic has upended the lives of children and their families as health systems are put under strain and schools and businesses close. This has contributed to additional pressure on employees, customers and their children.
Investing in measures that promote the wellbeing of all stakeholders is a critical way for businesses to protect the productivity and longevity of their employees, and to support communities where businesses operate at a time when they need it most.
Together, Chambers Ireland and UNICEF Ireland have launched a guide, adapted from a document released by the International Chamber of Commerce and UNICEF, which includes measures that business leaders can take to achieve both short- and long-term positive impacts in the workplace.
Speaking today, Chambers Ireland Chief Executive, and ICC Ireland Secretary General, Ian Talbot says: "The impact of the pandemic in Ireland has put tremendous strain on working families, particularly when faced with schools and childcare services shutting to limit the spread of the virus. Parents over the past three months, and indeed for many months last year, have had to juggle the obligations of their jobs and businesses, while also homeschooling and caring for children. For businesses to adapt, flexibility is crucial.
Our message today is that this flexibility will be needed not only for the duration of the pandemic, but in the longer term. This joint message from Chambers Ireland and UNICEF Ireland is a "call to action" to the business community. By addressing the needs of working families – and supporting global relief efforts – we will ensure a faster collective recovery from the crisis and bolster your reputation and credibility as a trusted employer.
Finally, we want to acknowledge the fact that it is women in the workplace who have been most impacted by the pandemic – not just as frontline workers but also as those who carry most of the home and caring responsibilities.
As we work towards building a more family-friendly workplace, we must be sure that we are doing so in a way that supports investment in quality childcare and enables parents to more evenly share caring responsibilities."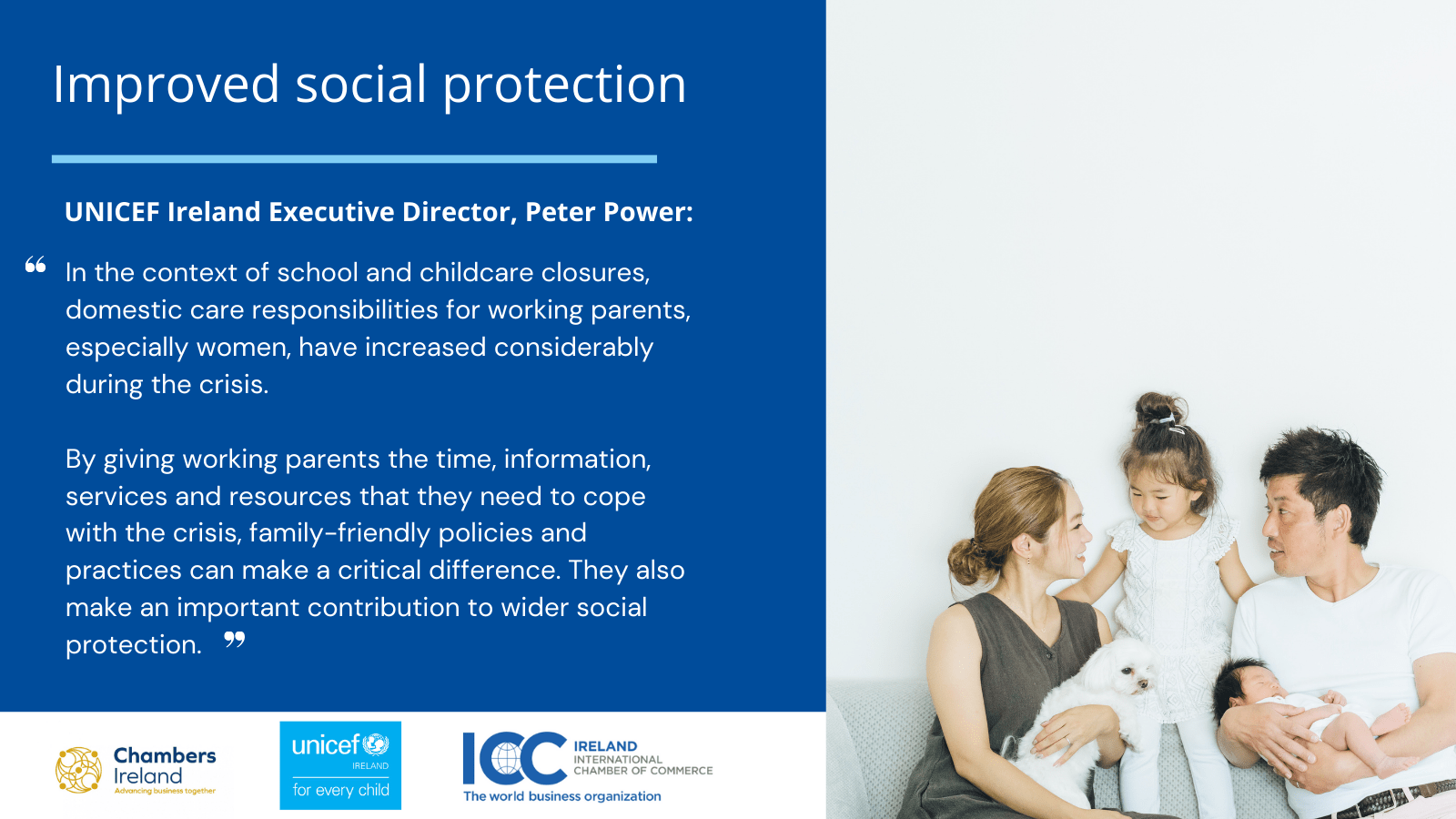 Also speaking, UNICEF Ireland Executive Director Peter Power says: "For many children and their families, the evolving COVID-19 situation means disrupted education and childcare, family illness and potential loss of household income. Restrictions on free movement and the socio-economic fallout of the crisis put children at heightened risk of abuse, neglect and violence. In the context of school and childcare closures, domestic care responsibilities for working parents, especially women, have increased considerably during the crisis.
By giving working parents the time, information, services and resources that they need to cope with the crisis, family-friendly policies and practices can make a critical difference. They also make an important contribution to wider social protection."
ENDS
###
For further information contact Jonathan Baxter, Communications and Media Executive at Chambers Ireland on 086 608 1605 or email jonathan.baxter@chambers.ie.
Notes to editors:
Access the International Chamber of Commerce and UNICEF report here.
About Chambers Ireland
Chambers Ireland is Ireland's largest business network, with 41 member Chambers across every major city, town and region of the island. Aligning our strategic priorities with the UN's Sustainable Development Goals, our aim is to make places better to live, work and do business.
Chambers Ireland is also a member of the International Chamber of Commerce, branded locally as ICC Ireland.
The International Chamber of Commerce is the the institutional representative of more than 45 million companies in over 100 countries with a mission to make business work for everyone, every day, everywhere.
Chambers Ireland published new research earlier in March on the impact of COVID-19 on female entrepreneurs
Follow Chambers Ireland on Twitter.
About UNICEF
UNICEF works in some of the world's toughest places, to reach the world's most disadvantaged children. Across 190 countries and territories, we work for every child, everywhere, to build a better world for everyone. For more information about UNICEF and its work for children, visit www.unicef.org. For more information about COVID-19, visit www.unicef.org/coronavirus . Find out more about UNICEF's work on the COVID-19 vaccines here, or about UNICEF's work on immunization here.