UNICEF Ireland, ICC Ireland and Chambers Ireland highlight research warning of sluggish recovery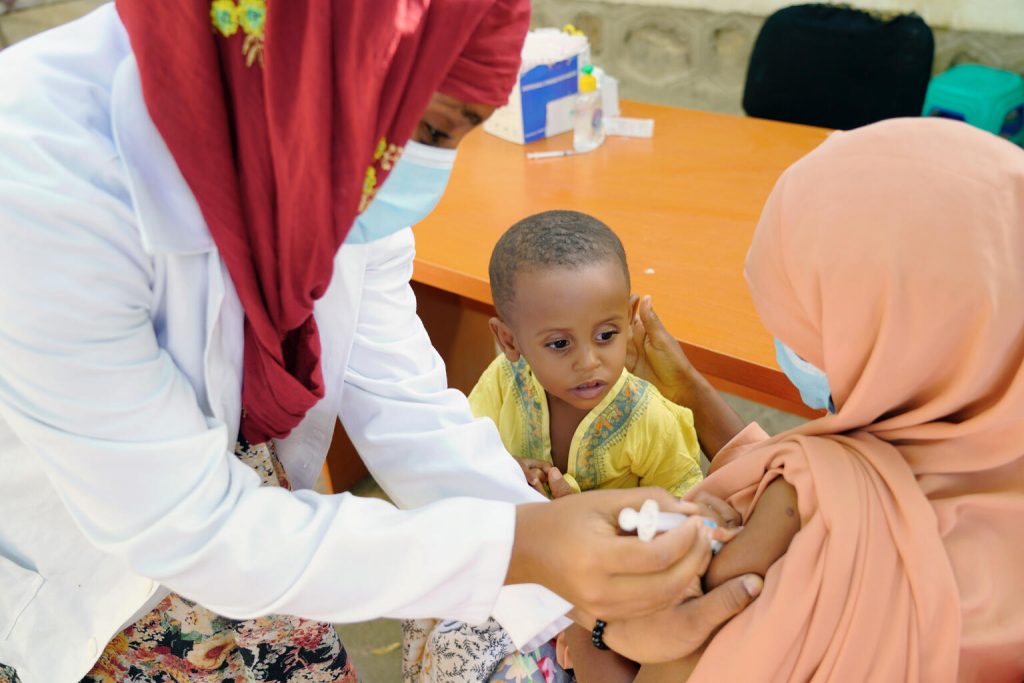 DUBLIN, 25 April 2021 – A study commissioned by the International Chamber of Commerce (ICC) Research Foundation warns the global economy stands to lose as much as €7.6 trillion if governments fail to ensure developing economies get access to COVID-19 vaccines.
The research has been highlighted by Chambers Ireland and UNICEF Ireland to mark World Immunisation Week. The event aims to increase confidence in the value and effectiveness of vaccines in general, and COVID-19 vaccinations in particular. This year's theme is 'Vaccines bring us closer'.
The COVID-19 pandemic has had a devastating effect on lives and livelihoods. The arrival of effective vaccines is a game changer in mitigating the economic, social and health consequences of the virus in the year ahead.
However, access to vaccines is uneven. As advanced economies secure maximum supply of frontrunner vaccines, availability of vaccines in emerging markets is limited. Moreover, the Access to COVID-19 Tools (ACT) Accelerator – the proven global platform to enable equitable access to COVID-19 tests, treatments and vaccines – remains underfunded by the world's largest economies, limiting its ability to procure vaccines at scale for the developing world.
The ICC study highlights the major risks to the global economy inherent in this uncoordinated approach to vaccine access. It uses a sophisticated model that builds upon an earlier National Bureau of Economic Research and International Monetary Fund Working Paper to properly assess the economic toll of a prolonged pandemic. The research shows that no economy can fully recover from the COVID-19 pandemic until vaccines are equally accessible in all countries.
In short, advanced economies that can vaccinate all their citizens are shown to remain at risk of a sluggish recovery with a drag on GDP if infection continues to spread in emerging markets. These losses dwarf the donor finance required to enable vaccines to be procured for everyone, everywhere and make a clear 'investment case' for full capitalisation of the ACT Accelerator and a coordinated global approach to distribution.
Speaking today, UNICEF Ireland Executive Director Peter Power says,
"COVID-19 has had a devastating impact on the lives of children and their families, as disrupted healthcare, education and childcare, family illness and potential loss of household income erode decades of progress. Restrictions on free movement and the socio-economic fallout of the crisis put children at heightened risk of abuse, neglect and violence. Some 150 million additional children have been plunged into poverty as a result of the pandemic. To correct course, we must ensure the equitable distribution of COVID-19 vaccinations."
Also speaking today, Chambers Ireland Chief Executive, and ICC Ireland Secretary General, Ian Talbot says,
"The pandemic has proven the intrinsic connection between public health and economic growth. As an open economy that is strongly dependent on international trade and efficient supply chains, Ireland must make a vigorous case in support of fair and equitable access to vaccines across the world.
The research published by our partners in the ICC serves to underline the message that no-one is safe until we are all safe. If a global approach to ending the pandemic is not prioritised, then the recovery will falter, entrenching loss of life and disruptions to economies and supply chains for years to come."
As a global leader in vaccinations, UNICEF is working to ensure that all countries participating in the COVAX Facility (currently 190) have equitable access to 2 billion doses of the COVID-19 vaccine by the end of 2021. The COVAX Facility is a global effort led by ACT-A partners Gavi, WHO and CEPI to streamline procurement and aid equitable distribution of COVID-19 vaccines.
ENDS
Notes to editors:
Access the ICC Research Foundation commissioned study here.
The original research stated the potential economic losses in US dollars. The figure used in this press release has exchanged this amount of $9.2 trillion using the average inter-bank rate on the date the report was published (January 25, 2021) of $1 = €0.823. This equates to €7.5716 trillion.
About Chambers Ireland and ICC Ireland
Chambers Ireland is Ireland's largest business network, with 41 member Chambers across every major city, town and region of the island. Aligning our strategic priorities with the UN's Sustainable Development Goals, our aim is to make places better to live, work and do business.
Chambers Ireland is also a member of the International Chamber of Commerce, locally named ICC Ireland.
The International Chamber of Commerce is the the institutional representative of more than 45 million companies in over 100 countries with a mission to make business work for everyone, every day, everywhere.
Chambers Ireland published new research earlier in March on the impact of COVID-19 on female entrepreneurs.
Follow Chambers Ireland on Twitter
About UNICEF
UNICEF works in some of the world's toughest places, to reach the world's most disadvantaged children. Across 190 countries and territories, we work for every child, everywhere, to build a better world for everyone.
For more information about UNICEF and its work for children, visit www.unicef.org.
Find out more about UNICEF's work on COVID-19 vaccines here. Follow UNICEF on Twitter and Facebook. 
About COVAX
COVAX is co-led by CEPI, Gavi and WHO – working in partnership with UNICEF as key implementation partner, developed and developing country vaccine manufacturers, the World Bank, and others. It is the only global initiative that is working with governments and manufacturers to ensure COVID-19 vaccines are available worldwide to both higher-income and lower-income countries.
In collaboration with the PAHO Revolving Fund, UNICEF is leading efforts to procure and supply doses of COVID-19 vaccines for COVAX. In addition, UNICEF and WHO are working with governments around the clock to ensure that countries are ready to receive the vaccines, with appropriate cold chain equipment in place and health workers trained to dispense them.
UNICEF is also playing a lead role in efforts to foster trust in vaccines, delivering vaccine confidence communications and tracking and addressing misinformation around the world.