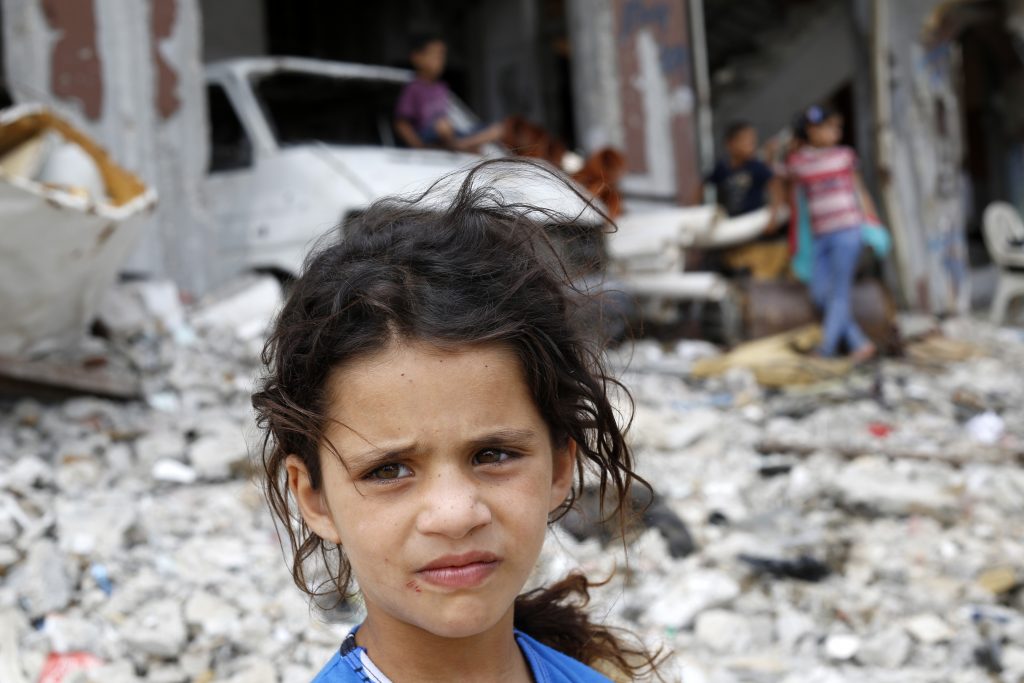 UNICEF Ireland Executive Director says damage to families cannot be repaired
Dublin 21.05.2021 – UNICEF Ireland welcomes the ceasefire that is now in place in the Israeli-Palestinian conflict. The damage done to families cannot be repaired. It is our hope that the focus can now turn to the provision of urgent humanitarian assistance for the children hit by violence.
It is critical that established humanitarian corridors are now fully opened to allow humanitarian aid into Gaza. UNICEF has had a significant presence in Gaza for many years and requires all crossing points to be opened for the delivery of aid.
Gaza's one million children are reeling from 11 days of violent conflict. Lives have been lost, and families shattered. Hundreds of children have been injured.
An estimated 250,000 children need mental health and protection services. At least four health facilities and 40 schools have been damaged. Some 48 schools are being used as emergency shelters.
The already weakened water and sanitation systems have been further compromised. Essential infrastructure – including groundwater wells and reservoirs, desalination and wastewater plants, water delivery networks and pumping stations – have sustained significant damage. UNICEF estimates that 325,000 people need emergency water and sanitation services, without which they are more likely to contract potentially deadly infectious diseases.
Immediate humanitarian access must now be secured and protected in order to begin the enormous work that must be done to stave off disaster.
UNICEF Ireland also welcomes Ireland's leadership on this issue at the United Nations Security Council. The Irish government has consistently condemned attacks on civilians in the conflict.
Ambassador Byrne-Nason, Ireland's Ambassador to the UN, called the violence of recent days 'a nightmare'. For children, nightmares have always been terrifying. When the nightmare becomes reality the pain is keenly felt. We echo the Ambassador's statement – No cause, no objective, justifies the loss of innocent life.
We acknowledge the government's allocation of €1.5 million of emergency funding, to UNRWA and UNICEF.
UNICEF Ireland Executive Director Peter Power said: "Having travelled to Gaza previously to monitor UNICEF's work there, I have seen the horrific conditions in which people have been forced to live in Gaza. The basic human rights of over 2 million people are not being respected.
"I have also seen first-hand the critical importance of humanitarian assistance. Without this assistance the existing unjustified suffering would be immeasurably worse. UNICEF has been providing water and education in Gaza for many years under the most extreme of circumstances. Families are reliant on that support. The children of Gaza must not be abandoned now.
"Recent events are happening amid a pandemic. In order to maintain healthcare services and prevent infections, our teams must immediately get essential supplies including fuel, medical items, first-aid kits and COVID-19 vaccines into Gaza.
"The pressure on families living in Gaza threatens to overwhelm them. The impact of recent days is, and will continue to be widespread and devastating. While the numbers of dead and dying, injured and changed make the headlines, the devastation is even more widespread and will be felt throughout the lifetimes of the children born into this conflict."
###
ENDS
Notes for editors:
About UNICEF
UNICEF works in the world's toughest places, to reach the world's most disadvantaged children. Across more than 190 countries and territories, we work for every child, everywhere, to build a better world for everyone.
For more information about UNICEF and its work for every child, visit our website
Follow us on Twitter and Facebook
For more information, please contact:
Aedín Donnelly, Communications and Media Manager for UNICEF Ireland, aedin@unicef.ie, Tel: +353 1 809 0291, Mob: +353 85 1395272