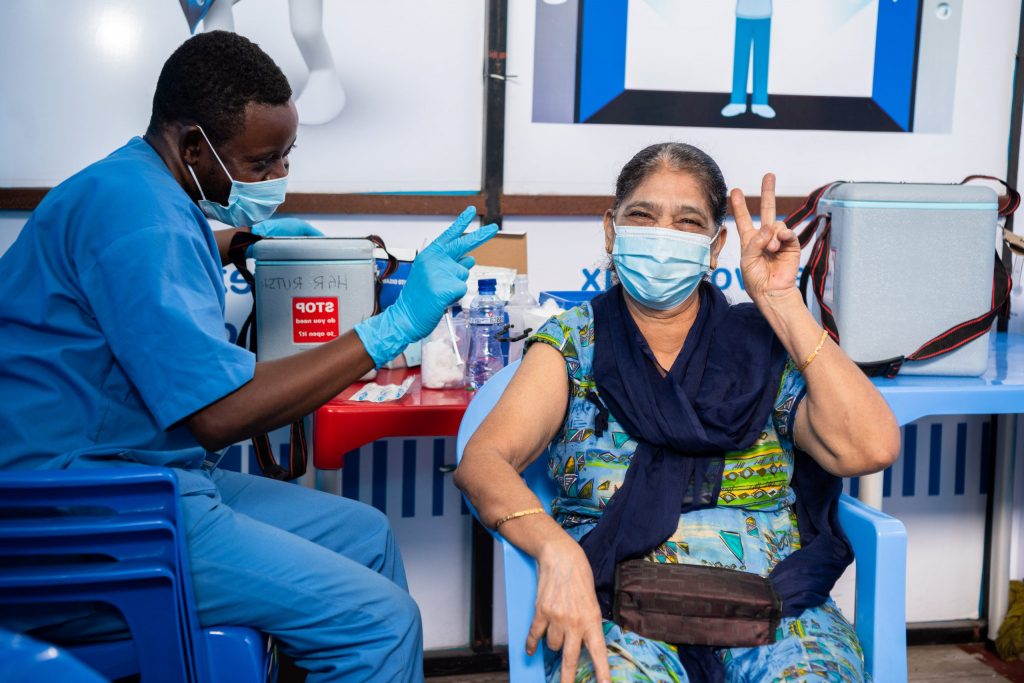 PRESS RELEASE
UNICEF Ambassador Liam Neeson hails Irish public as COVID-19 vaccine donations pass 2 million mark
Irish response to UNICEF's Get a Vaccine, Give a Vaccine campaign will now see 2 million COVID-19 vaccine doses delivered to some of the world's least developed countries    
UNICEF spokespeople are available for interview
Multimedia assets available for download here
DUBLIN, 14 October 2021 – UNICEF Goodwill Ambassador Liam Neeson has hailed the generosity of the Irish public as he announced donations for UNICEF's Get a Vaccine, Give a Vaccine campaign have passed the 2 million doses mark. Speaking ahead of an appearance on The Late Late Show on Friday, Neeson said, thanks to support from people and companies in Ireland, UNICEF will now deliver two million life-saving COVID-19 vaccine doses to healthcare workers and vulnerable people in some of the world's least developed countries.
As a long-time UNICEF Goodwill Ambassador, Neeson said he has been inspired by the support Irish people have shown for others around the world. "I am so proud to announce that the Irish public has now donated over two million COVID-19 vaccine dose deliveries. It is incredible. The pandemic has shown us that we are all in this together. And the generous response to UNICEF's Get a Vaccine, Give a Vaccine campaign in Ireland has been so inspiring to witness and be part of. By supporting UNICEF, people and companies in Ireland are playing their part in the biggest vaccine procurement and distribution in history. UNICEF is working to deliver 3 billion COVID-19 vaccines to the most vulnerable families, health workers and high-risk people on our planet."
Northern Irish actor Neeson launched UNICEF Ireland's campaign in June, voicing an inspiring TV and radio campaign and encouraging people to 'give a vaccine' when they 'get a vaccine'. So far, the campaign has raised over €5 million from individuals and companies in Ireland and according to Neeson, it provides everyone with an opportunity to help end the pandemic. "I think we are all so grateful for our vaccines and for life slowly returning to normal. When you think that just €25 can help UNICEF deliver enough vaccines for 5 of the world's most vulnerable people. It is an amazing gift to give. It shows that we can all play our part in ending the pandemic. Already UNICEF has delivered over 300 million vaccine doses to over 140 countries."
Despite highlighting the massive impact of the campaign, Neeson said UNICEF had no intention of stopping now. And with vaccination rates in some of the world's least developed countries still below 5%, Neeson urged Irish people to keep supporting UNICEF's work. "Ireland's rate is over 90%, and when you see how low the rates are in many of the world's least developed countries, it is just not right. Nobody is safe until everyone is safe. There are so many people UNICEF has yet to reach. That's why we need Irish people and companies to continue to support the global vaccine rollout."
UNICEF is leading lead the largest-ever vaccine procurement and supply operation as part of the global COVAX Facility. UNICEF was asked to join COVAX by partners WHO, Gavi The Vaccine Alliance, and CEPI in 2020, due to its expertise in procuring half the world's vaccines for children under 5 every year.
The scale of the effort is enormous and Neeson said more funding is needed to achieve UNICEF's historic mission. "I ask people and companies in Ireland to keep supporting UNICEF and the fight against COVID-19. A donation to UNICEF means that vaccines get to the most remote and isolated places in the world, vaccines are stored safely using secure cold chain equipment, health workers are vaccinated and protected against COVID-19 and vulnerable families and children receive the life-saving care they need to survive."
After GAVI, the WHO or countries have paid for the vaccine doses themselves, €4.48 allows UNICEF to deliver two doses of COVID-19 vaccine from the point of arrival in-country to the individual, in countries facing humanitarian crisis. According to UNICEF Ireland, people and companies can continue to support UNICEF's COVID-19 vaccine campaign and help end the pandemic by donating today at www.unicef.ie
#####
ENDS
Notes to the editor:
UNICEF Ireland's Get a Vaccine, Give a Vaccine campaign
UNICEF Ireland's Get a Vaccine, Give a Vaccine campaign offers people in Ireland an opportunity to come together in support of global vaccine equity – taking part is an act of solidarity. UNICEF is leading the largest-ever vaccine procurement and supply operation on behalf of the COVAX Facility, a global effort led by ACT-A partners Gavi, WHO and CEPI to aid equitable distribution of COVID-19 vaccines, targeting 92 low and middle-income countries, amongst 190 members
About COVAX  
COVAX, the vaccines pillar of the Access to COVID-19 Tools (ACT) Accelerator, is co-led by the Coalition for Epidemic Preparedness Innovations (CEPI), Gavi, the Vaccine Alliance Gavi) and the World Health Organization (WHO) – working in partnership with developed and developing country vaccine manufacturers, UNICEF, the World Bank, and others. It is the only global initiative that is working with governments and manufacturers to ensure COVID-19 vaccines are available worldwide to both higher-income and lower-income countries.
ABOUT UNICEF
UNICEF works in some of the world's toughest places, to reach the world's most disadvantaged children. Across 190 countries and territories, we work for every child, everywhere, to build a better world for everyone.
For more information about UNICEF and its work for children visit www.unicef.ie
Follow UNICEF on Twitter and Facebook
For more information, please contact:
Danny Smits, UNICEF Ireland, +353 87 1308070, danny@unicef.ie