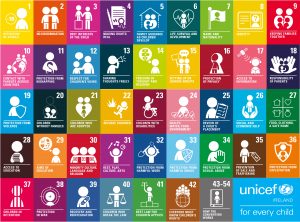 The Convention on the Rights of the Child (Children's version)
The Rights Respecting Schools Award is based on the United Nations Convention on the Rights of the Child. The Convention on the Rights of the Child is an important agreement by countries that have promised to protect children's rights. The Convention on the Rights of the Child explains who children are, all their rights, and the responsibilities of governments. All the rights are connected, they are all equally important and they cannot be taken away from children. UNICEF has developed official children's versions of the convention which you can download in 2-page booklet and 4-page booklet, along with the CRC poster above.
Articles in Action
Articles in Action illustrates how the Convention can provide a powerful framework to help articulate a school's vision, aims, ethos and everyday practice, alongside providing a common language that can be used by all stakeholders within the school community. The resource focusses on the first 42 articles of the CRC (articles 43-54 are about how adults and governments must work together to make sure all children can enjoy all their rights).
This document gives examples of links between the CRC article and the school context. These are broken down in terms of the school's strategic work, with regard to pupil's learning and engagement with the wider world. This fantastic resource is suitable for all school settings.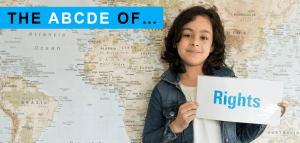 ABCDE of Rights
Use this PowerPoint and accompanying How To Guide at staff meetings to help spark ideas about incorporating teaching and learning about rights into every aspect of the curriculum.
This resource has been designed for teachers and can be used by the school's RRSA coordinator as part of staff training. Its purpose is to show how the concepts of rights being universal, inherent, inalienable, unconditional and indivisible can be explained, using a range of different approaches, to primary school-age children.
This free booklet, developed by UNICEF UK, highlights some of the common myths and misconceptions about children's rights which the Rights Respecting Schools award team have heard from teachers, parents and school communities in the UK.
Strand C – Teaching and learning for rights – participation, empowerment and action
Strand C of the Rights Respecting Schools award is all about empowering children to enjoy and exercise their rights and to promote the rights of others locally and globally.
Designed for both primary and secondary teachers and schools, the following resources will help children and young people better understand how children's rights are affected around the world, as well as learn what they can do to tack action for a better world.