South and Central America
South and Central America
Our work spans countries and territories across Latin America, promoting the rights and welfare of vulnerable children and adolescents in all that we do.
What we seek to achieve at UNICEF is more important than ever before, as children face problems of gang violence, poverty and economic instability throughout the region. As a result, many are forced upon the arduous journey of migration, and in doing so are robbed of their childhood.
With the likes of Venezuela experiencing unprecedented economic hardship and extreme malnutrition, gang-related violence and organised crime in Mexico, El Salvador, Guatemala and Honduras, we rise up to the challenge of reintegrating children, providing them with a basic education and reuniting them with their families.
Millions of families are making the painful decision of leaving home, migrating on foot and crossing borders – all to flee poverty and violence.
Such instability is proven to have detrimental effects on the wellbeing of a child, with the UNICEF Child Alert report showing that dangerous journeys and deportations intensify causes of irregular migration.
We work hard to understand the root causes of irregular migration from northern Central America and Mexico, and seek to provide basic services to allow children to thrive, regardless of their gender or age.
Protecting Children and Migrants Against Violence
The region of Latin America knows all too well the pains of an unequal society. Too many children fall victim to violence, abuse and exploitation as a result of their age and gender.
6.3 million migrant children in the region are facing life-threatening situations and multiple forms of violence. They seek to get away from violent gangs that target them or poverty and exclusion that deny them opportunities and hope. Many also travel north to reunite with their families.
The UNICEF Child Protection programme prevents and responds to violence and harmful practices in all its forms, particularly migrant, refugee and displaced children. The programme details providing better access to support services and emergency mechanisms such as hotlines and psycho-social care.
Our work also involves protect children in contact with the law, including adolescents in the juvenile justice system and children in need of alternative care.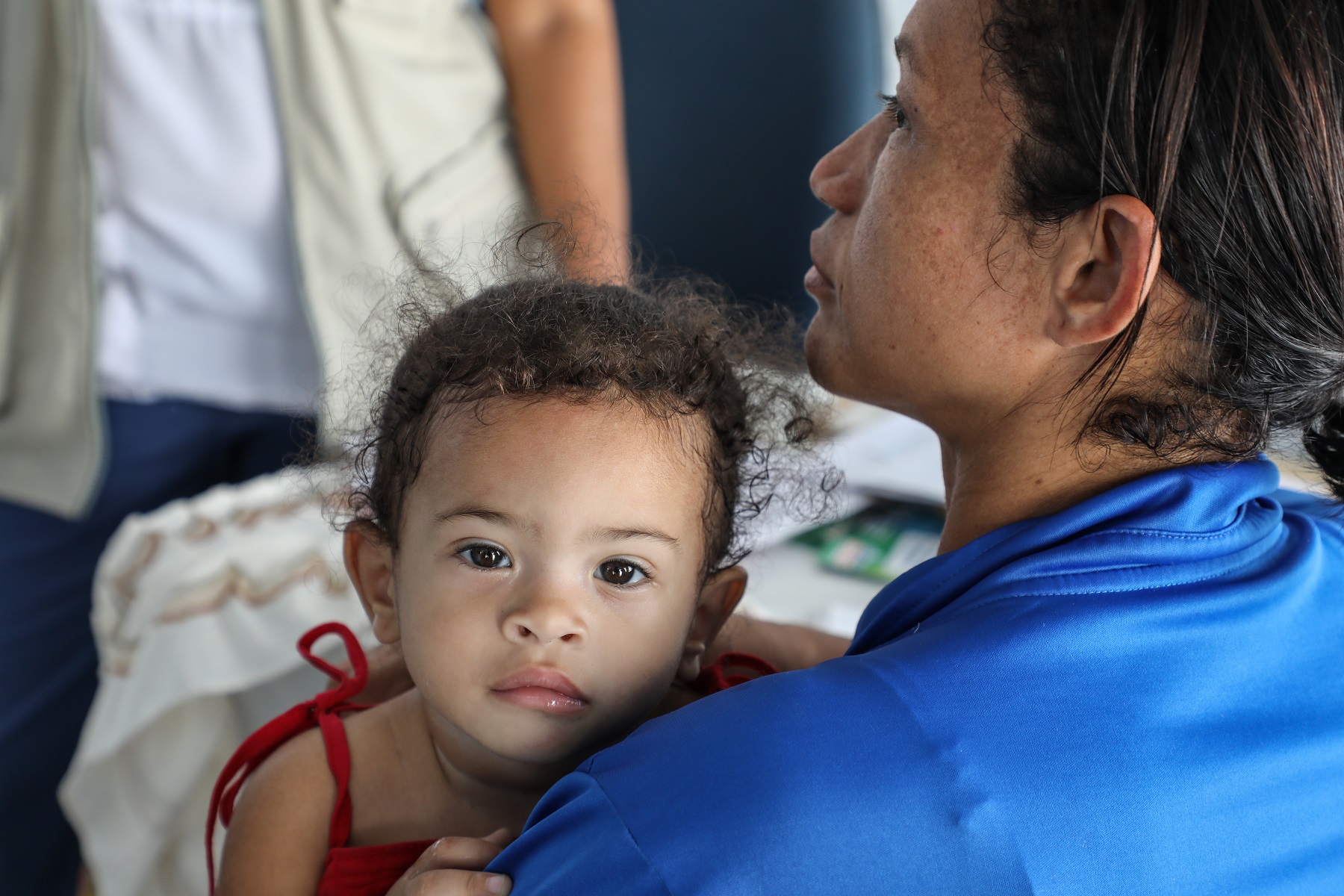 A baby girl in her mother's arms in Tumbes, Peru.
Education
Our response to violence and migration begins with improving educational opportunities for children in countries of origin and at their destination.
UNICEF also calls on national and local governments to help reintegrate returned migrant and refugee children into their communities and schools, who are often subject to xenophobia and discrimination.
In the likes of El Salvador, Guatemala and Honduras, we have also begun developing programmes to identify out-of-school children and support their educational reintegration through more flexible and adaptable curricula. Without quality learning, children are less likely to secure jobs as adults – perpetuating the cycle of disadvantage and extreme poverty.
We aim to provide preventative measures that help to resolve the issues at the root – by responding to violence and educating children, we believe that they are better equipped to create a fairer, equal society in the future. UNICEF addresses attitudes, promoting lasting change in the way societies in Central and South America raise, discipline and treat their children, both boys and girls.
By implementing new laws, changing the norms and values and providing safe spaces for children to learn, we are improving the chances that children have at developing life skills. We believe that every child has the right to strive and thrive regardless of gender or age, and that they are the pillars of hope for future change in their communities.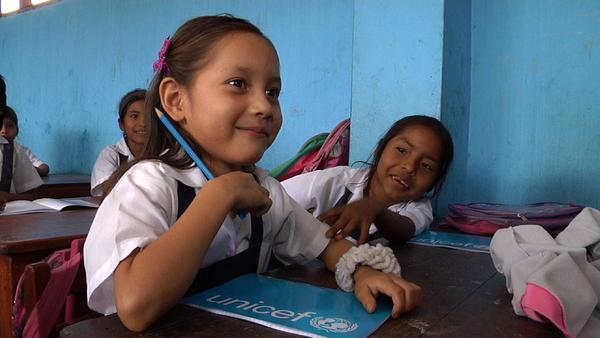 Two girls from Peru using their UNICEF pencils and copybooks in school. Venezuela Crisis
0
Venezuelan children require urgent humanitarian assistance
Vaccination
The movement of children in such masses means that remote rural regions and impoverished urban areas in South and Central America lack the health services that children need.
With one child dying every 20 seconds from a disease preventable by vaccine, our work in Central and South America is of paramount importance. Our global efforts involve reaching the children in the most remote of locations and increasingly, those on the move.
We purchase vaccines and improve the cold chain to ensure that vaccines are kept at a constant cool temperature, and seek to educate families about the importance of child vaccinations.
Sanitation
Children in Latin America, particularly those living in poverty, are vulnerable to natural and man-made disasters and are especially affected by them. Millions of children in the region do not have access to services such as water and basic sanitation. By strengthening the systems of health and welfare, we are helping to protect children everywhere.
UNICEF pledge to work with partners and allies to generate evidence, as well as defend and strengthen national systems, with special attention to the approach of gender. They also work with national organisations to end defecation in the open air and faecal contamination.
This is achieved with the successful water sanitation and hygiene (WASH) initiatives at school and health care centres. We particularly consider the needs of women, girls and children with disabilities.
By delivering a rapid and effective humanitarian response, we support coordination and risk-based planning to help societies cope with climate change and the effect it might have on their basic services.
We also recognise the psychological impact of migration upon children and adolescents and seek to provide better mental health sanitation for families that have returned to Central America. In Honduras for example, UNICEF has developed a model for psychological support using a peer-to-peer approach across 21 municipalities.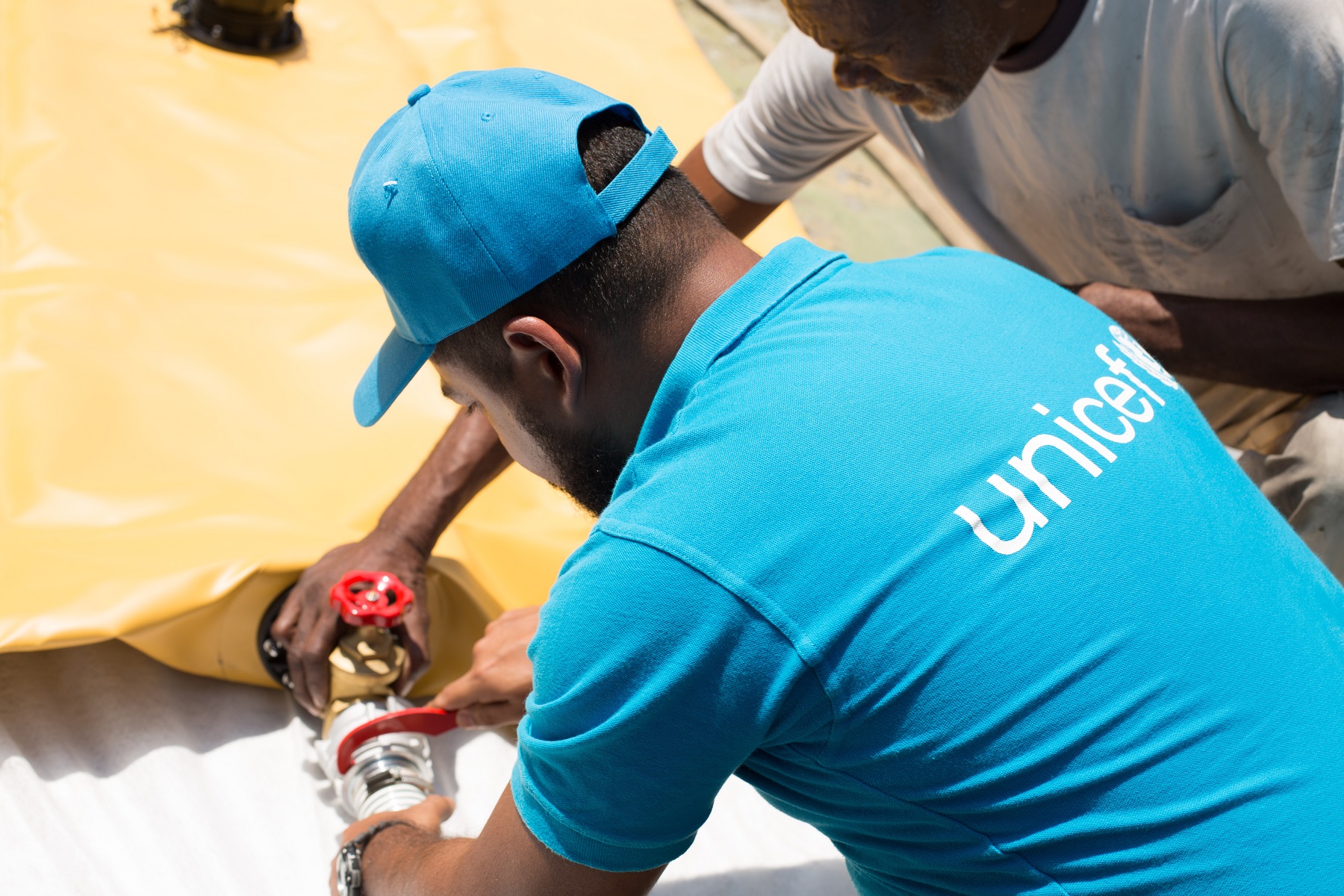 UNICEF and its partners are reinforcing essential services –including water and sanitation – for vulnerable children and families in Venezuela.
Nutrition
The political upheaval in Venezuela has seen the worst migrant crisis in the history of the region – and large numbers of children and adults suffering from hunger. As one of the world's leading regions in producing and exporting food, we believe that food security should not be an issue.
Food shortages in Venezuela have resulted from high inflation, causing an increase in child mortality and malnutrition. UNICEF collaborates with national ministries and organisations to promote breastfeeding and provide nutritional recuperation services with high-calorie foods.
Support UNICEF's Work in South and Central America
By donating to UNICEF, we can work together to improve the chances of a child's survival following migration, violence and poverty – and give them the childhood they deserve.

Stay informed
Add value to your inbox!
Sign up to keep up to date on what's going on around the world.