With the ongoing conflicts and disasters affecting millions of children and young people around the world, COVID 19 is a global socio-economic earthquake in the region's conflict zones. It has arrived at a time of unprecedented global need, with a record 168 million people already requiring humanitarian assistance at the beginning of the year.
Syria and Yemen have only seen a few dozen confirmed cases of COVID-19, but without proper testing capacities, the real number of cases could be potentially multiplied by 4. Due to the shortage of supply, doctors are unable to test all the patients coming with COVID-19 symptoms.
In Syria, the situation is catastrophic as 83% of the population was already living in poverty. The COVID-19 outbreak is more likely to destroy what is left of Syria's economy. In Yemen, more than half of the health care facilities are closed or only partially functioning, according to a 2019 WHO study. Today, the most urgent needs are shelter, water, sanitation and hygiene, food, and protection.
Increase in basic prices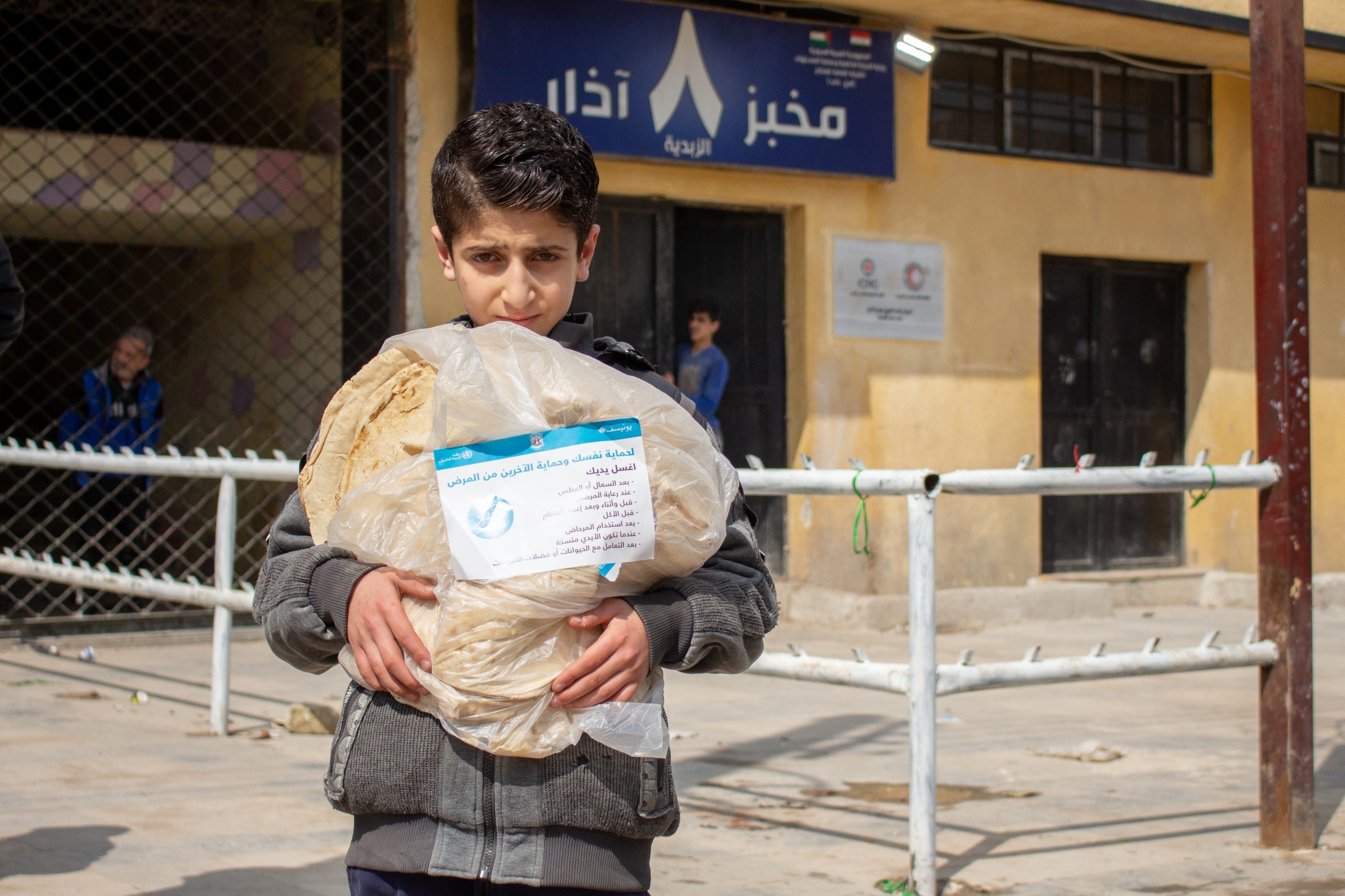 The Syrian regime has imposed a series of measures including a lockdown to make sure the spread of the virus is slowing down but because of the terrible hunger crisis, every day thousands of people have to get food and bread at distribution points and find themselves in contact with other people. An innovative idea by UNICEF was to place stickers on bread bags so it will reach out to every household. As a result, more than 200,000 stickers were distributed.
However, since the beginning of the outbreak, the basic prices have gone through the roof: the COVID-19 pandemic is affecting drastically the global food systems, supply chains, and purchasing practices. If Food, soap, and disinfectants are still on the shelves, but price gouging means basic supplies are now completely unaffordable: vegetables and eggs have gone up by between 40 and 75%, according to local media. Stockpiling and a growing demand for food items are creating a strain on global supply chains while restrictions on trade and movement have had a knock-on effect on the availability of foodstuffs.
Living with COVID-19 in refugees camps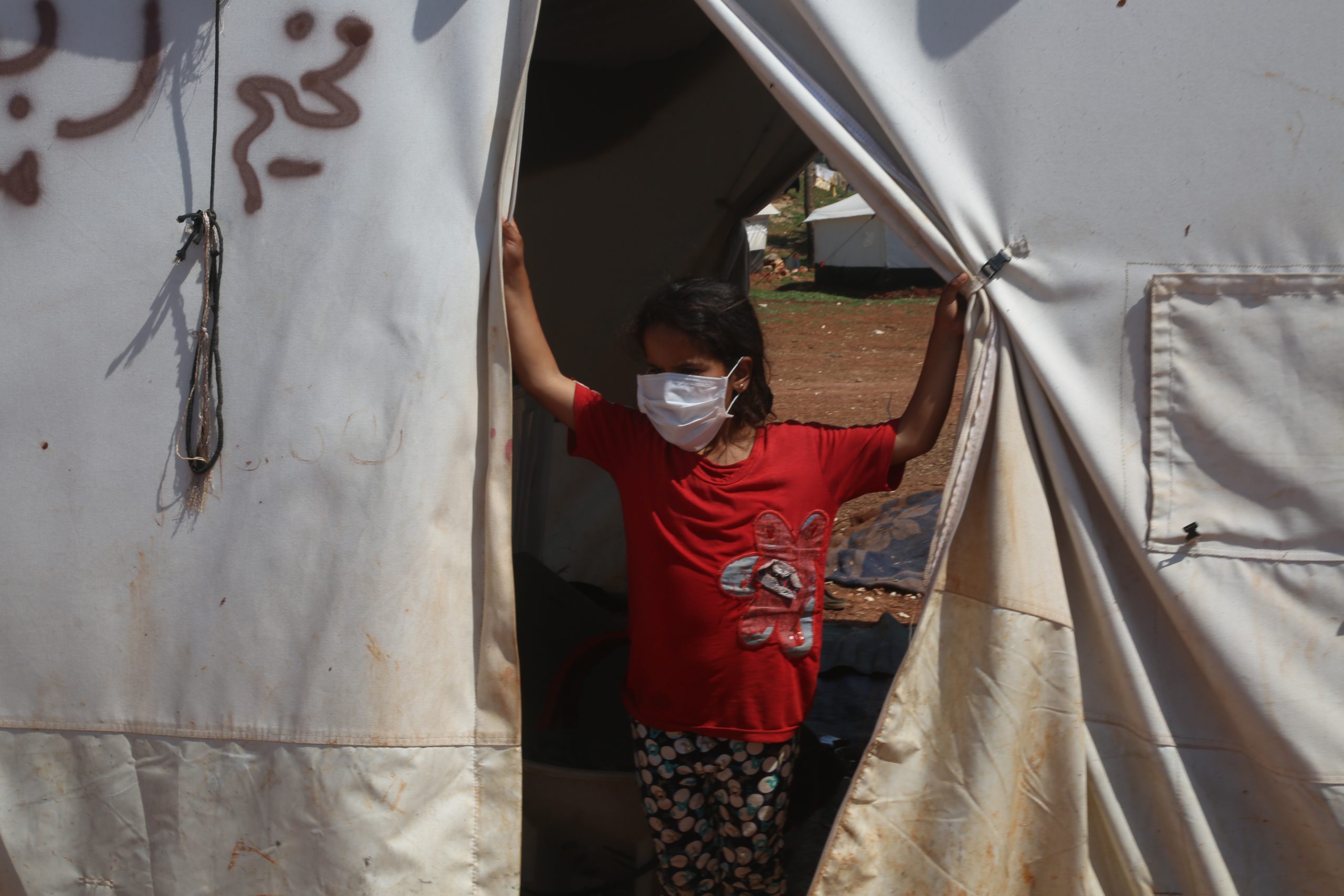 UNICEF/UNI322979/Albam
"COVID-19 will almost certainly gain a foothold in refugee camps, crowded reception centers, or detention facilities holding migrant families. Given how quickly the virus is spreading, such a scenario is looking imminent." UNICEF Executive Director Henrietta Fore
Today, there are also six million internally displaced people in Syria, many of whom are living in overcrowded conditions in camp with insufficient water and sanitation infrastructure.
In Yemen, where the need is to provide sanitization to stop the spread of the disease, UNICEF has delivered clean water to communities in need and distributing basic hygiene kits, containing soap, towels, buckets and jerry cans, to empower and enable displaced families across the country to protect themselves.
Social distance is a useful tool to flatten the curve to enable health systems to manage the crisis, but realistically, very difficult in communities where families live in confined spaces like the camps for displaced people in Syria or refugees in neighboring countries. If western countries with well-developed economies are able to handle a severe lockdown as they are supported by broad and inclusive social protection systems to protect families and individuals whose livelihoods have been disrupted, it is not the case for countries with weak economic systems in the middle east like Syria and Yemen where social distancing is very hard due to the high density of population in camps.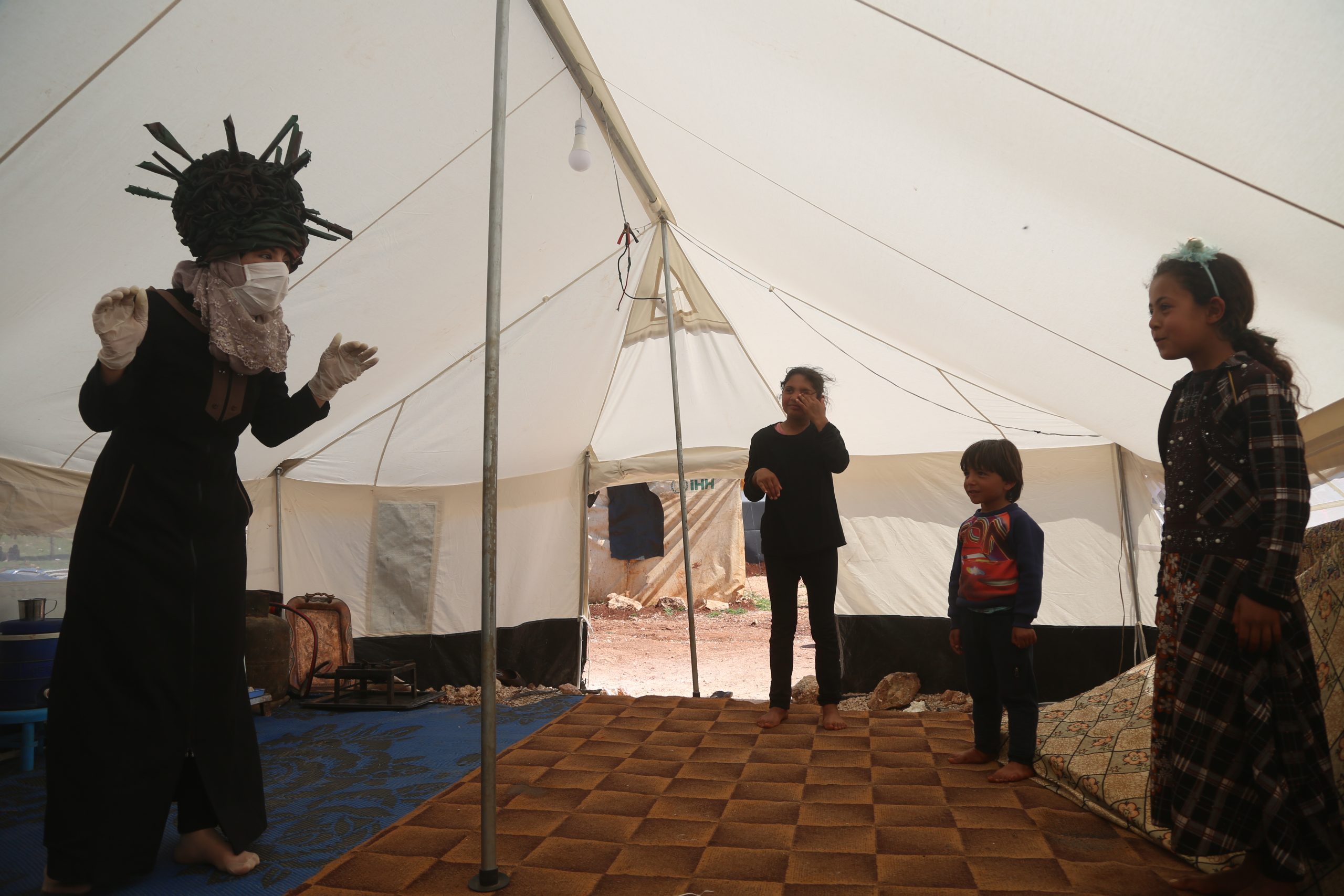 UNICEF/UNI322983/Albam
The key to prevent the outbreak in the camp will be messaging. In a tent camp for displaced Syrians near the town of Kafr Yahmoul, north of Idlib, Syrian Arab Republic, a UNICEF volunteer team made puppets in the form of a virus and visited with children in the camp, explaining to children the risks of the virus and how to stem the spread of infection. They then distributed soap and masks and did handwashing demonstrations while explaining safe distancing in a way that was accessible to the children.
Children in the camp have had a very good time learning about COVID-19 and good practices to prevent the virus to spread.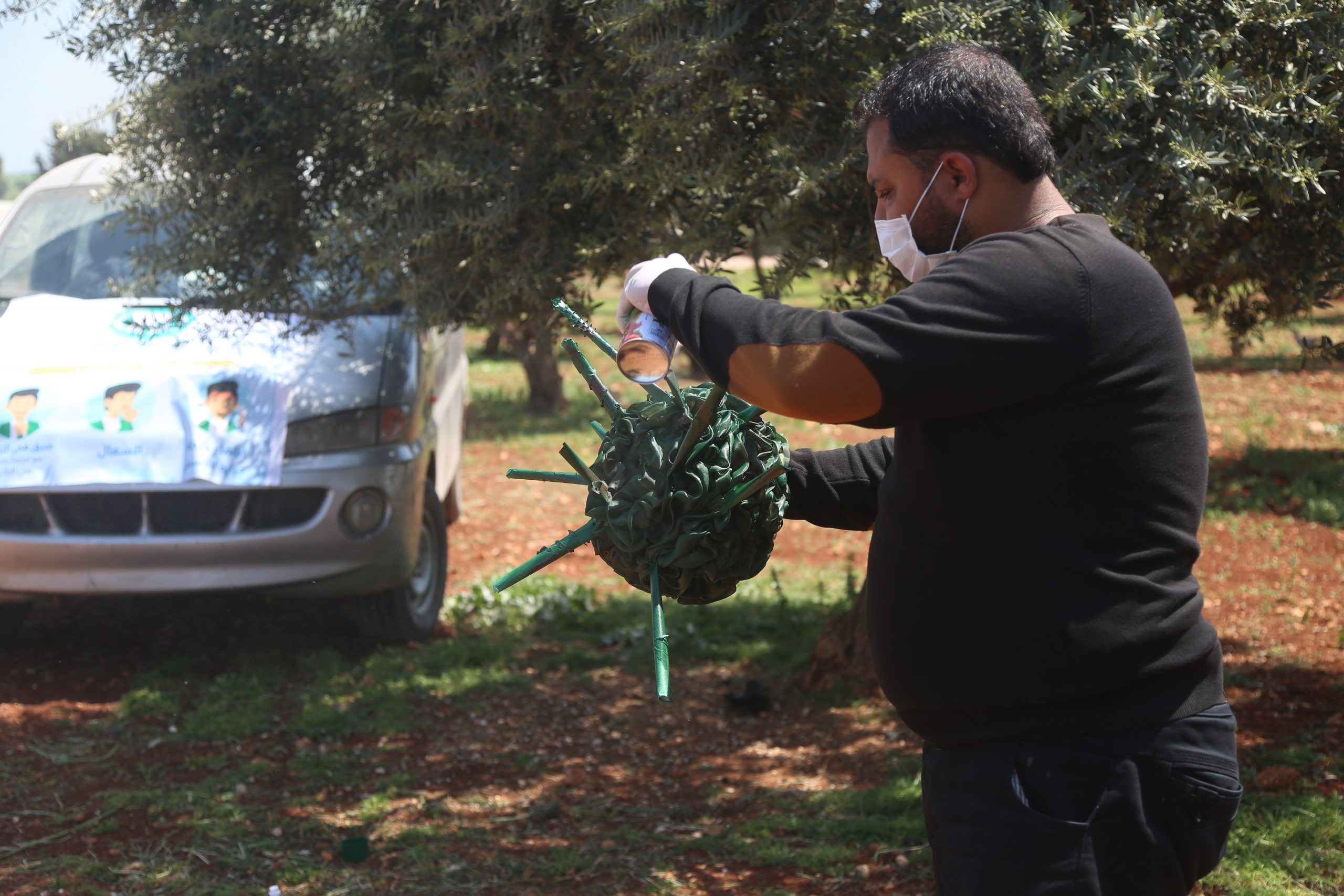 UNICEF/UNI322982/Albam
UNICEF Response to minimize the impact of COVID 19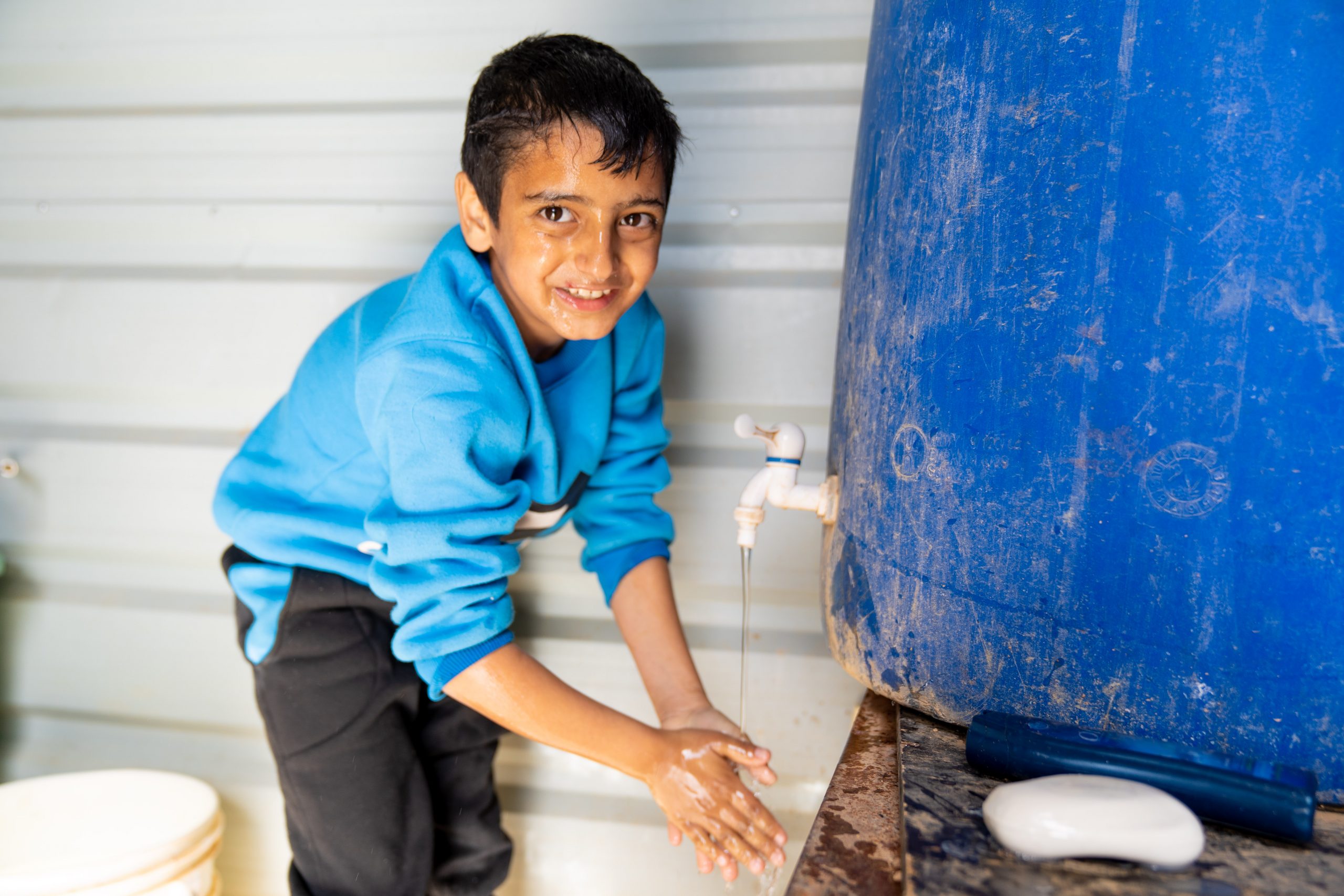 UNICEF/UN0280213/Herwig
In the last three months, UNICEF and partners have been working nonstop to provide safe water, sanitation, and hygiene supplies to 7.3 million people in Syria and the 2.5 million Syrian children who are living as refugees in neighboring countries. Ten-year-old Diaa is one. Since fleeing Syria in 2012, he has lived with his grandmother and other family members in Jordan's Za'atari Refugee Camp. Before his family was connected to the water network UNICEF helped build at the refugee camp, Diaa had to haul 12 buckets of water a day from the communal tap stands. "We used to go far away, where the water was," he recalls. "It would take us an hour to bring the water all the way home."
It is to protect Diaa and children like him from COVID-19 that UNICEF is on the ground, providing nearly 17,000 families with soap and hygiene kits. UNICEF is also helping to provide personal protective equipment for frontline workers.
Even before the World Health Organization declared the crisis a global health emergency, UNICEF had already shipped six metric tons of supplies. Since then, UNICEF has been responding in over 80 countries, with its international warehouse (the largest humanitarian warehouse in the world) on overdrive, packing, and shipping essential items to protect children, their families, and the health workers putting their lives on the line to keep others safe. In many parts of the world, staying safe is a tremendous challenge and UNICEF won't stop until each child is safe.