The COVID-19 emergency pandemic has rapidly developed into an unprecedented global health emergency. Everything has changed so fast and it has taken almost all of us by surprise. 
Children and parents' lives are being turned upside down and many of us are experiencing an emergency for the first time in our lives.  
Emergencies are often caused by natural disasters such as floods, earthquakes, and hurricanes, or by conflict. And whatever the cause, living through an emergency can significantly impact children's well-being and development. However, children can and do learn to adapt, and parents can help them cope and build resilience in times of emergency.   
Resilience is the ability to 'bounce back'. It means doing well against the odds, coping, and recovering. To support parents, UNICEF has teamed up with the Parenting for Lifelong Health initiative to bring parents and caregivers a set of handy tips to help manage this new (temporary) normal.   

1.

One-on-one time

We're all living through unprecedented times. So many parents across Ireland are now facing job uncertainty, trying to juggle working from home, and rapidly trying to help their children continue their education. It's totally normal to feel stressed and overwhelmed. 

But amid the uncertainty about the future, there's also a chance now to spend more one-to-one time with our children and teenagers – potentially building better and closer relationships. One-on-One time is free and fun. It makes children feel loved and secure and shows them, that despite everything going on, we are there for them and they are uniquely important to us. 

For more on how you can take get the most from one-to-one time download these tips [PDF format] for children of all ages – from toddlers to younger children and even up to teenagers.  

2. Keeping
our relationships
positive
Sometimes it can be hard to feel positive when you've shouted, "Stop doing that!" for the three hundredth time, or you've tripped over the item you just put back in the press, or you've been unable to coax your teenager away from their phone for what seems like weeks. But children of all ages are much more likely to work with us when we stay positive and show them our appreciation.  
There are some simple tips we can try and remember: 
You can 

describ

e

 the 

behaviour

 

you 

want to see

 

– 

e.g.

 "

Please tidy up your toys", instead of "Don't be so messy").

 

 

Try and find your calm voice

 –

Shouting at your child will only make them more stressed and annoyed. Get their attention by using their name and try to show

 them your feelings without escalating theirs. 

 

Remember everyone likes a bit of praise

–

When your kids do something well try and let them know. It shows them that you notice and that what they do matters to you. 

 

Reflect on what's 

doable –

Sometimes we can expect too much of 

others and that includes children

. It's worth thinking about whether your expectations are fair and doable. For example, 

it's tricky

,

 if not impossible

,

for kids to keep it down for hours on end, but maybe by chatting, they can do 20 minutes when you are on a call. 

 

Help your teen stay social –

Isolation doesn't do 

any of us 

much good, and teenagers can find it especially hard. Try and help your teen stay connected with friends – supporting them with the digital tools (they'll likely already know) and the space to 

keep in communication with friends.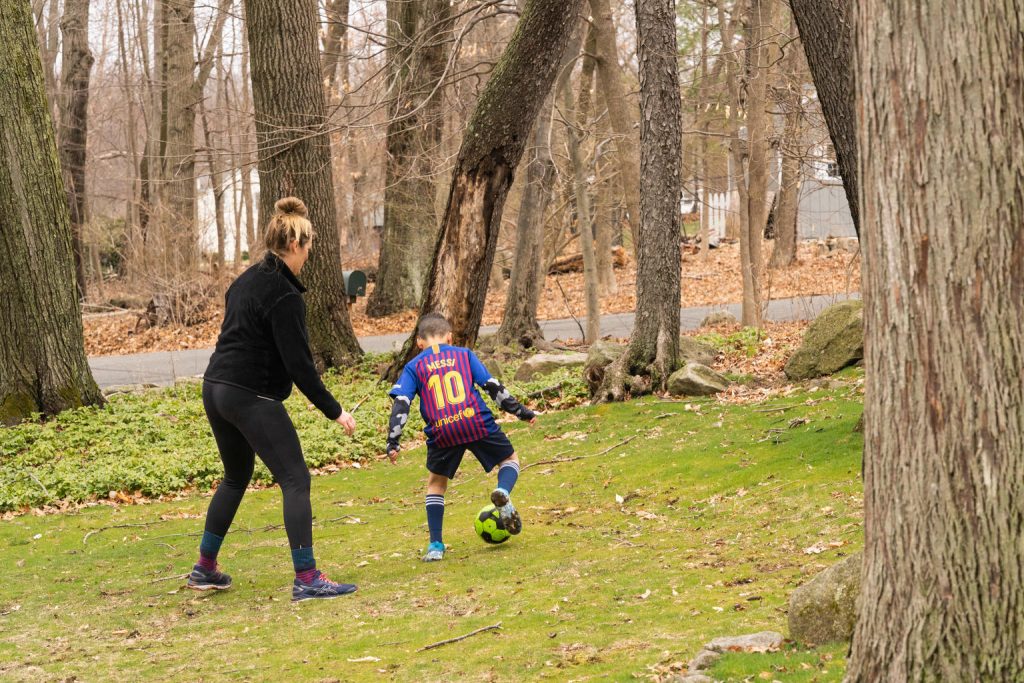 3. Get structured
The coronavirus pandemic has turned everyone's worlds upside down. This is hard on all of us – from the very smallest to the very biggest.  
Try and do what you can to make some new routines on the go.  
Co-create the new normal –

Get your kids to help decide on the new plan. Even the youngest folk can contribute and share ideas of what matters to them.

 

Aim for consistency but 

allow for 

flexibility –

Make sure any new schedule has free time 

and plenty of time for exercise (for them and you)

.

 
Reflect

, 

celebrate

 and adapt

together –

 

At the end of each day, 

come together as a family and chat about what everyone loved about today, and what we might improve for tomorrow.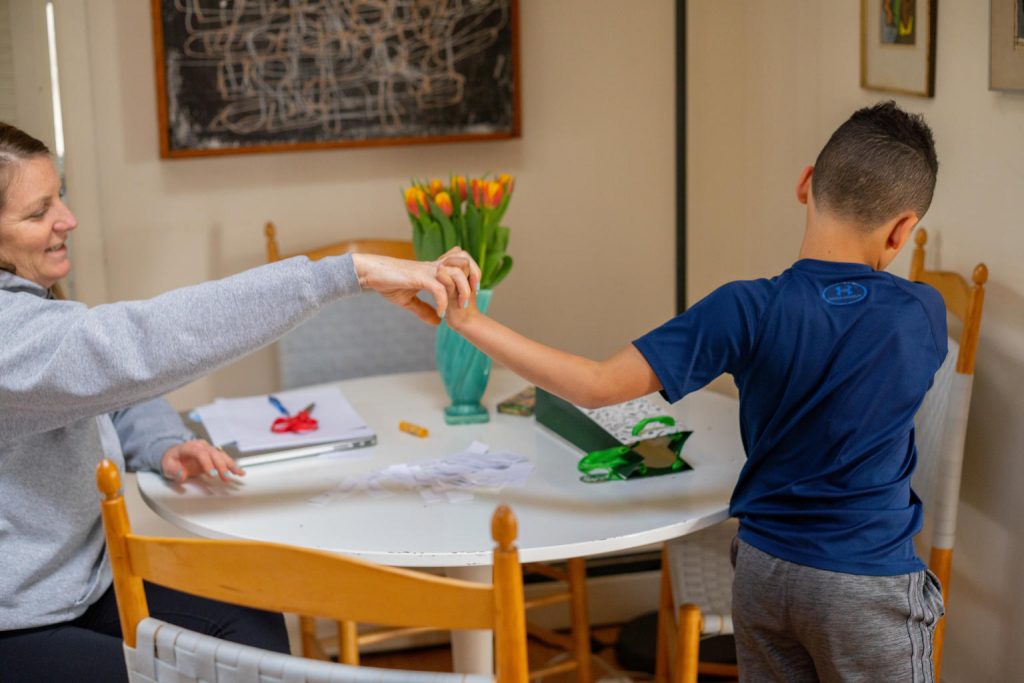 4. Bad
behaviour
There's always going to be behaviour that you find challenging. It is normal when children are tired, hungry, afraid, or learning independence. We all know that but it still doesn't always help us avoid being driven crazy when we are stuck at home. These handy tips can help us navigate these choppy waters:  
Redirecting and nipping it in the bud – Be

sensitive

 to their moods – try and spot if they s

tart to get

 

restless

 and 

distract 

them 

with something interesting or fun: "Come, let's go outside 

and play a game

!"

 

Take a moment – We can all get overwhelmed and the chaos can seem like it'll never end – so try to take a step back

and have a few seconds pause. Take some deep breaths.

 

  

 

Use consequences – Learning about c

onsequences helps teach our children responsibility for what they do.

Using consequences in a balanced and fair away 

also

 offers parents an opportunity to create a

 

discipline that is controlled. 

Here are some quick ways to do this:

 
Give your child a choice to follow your instruction before giving them the consequence.

 

Try to stay calm when giving the consequence.

 

Make sure you can follow through with the consequence. For example, 

banning TV for two weeks

 is hard to enforce.

 


Going for a couple of nights is

 more realistic. 

 

Once the consequence is over, give your child a chance to do something good, and praise them for it.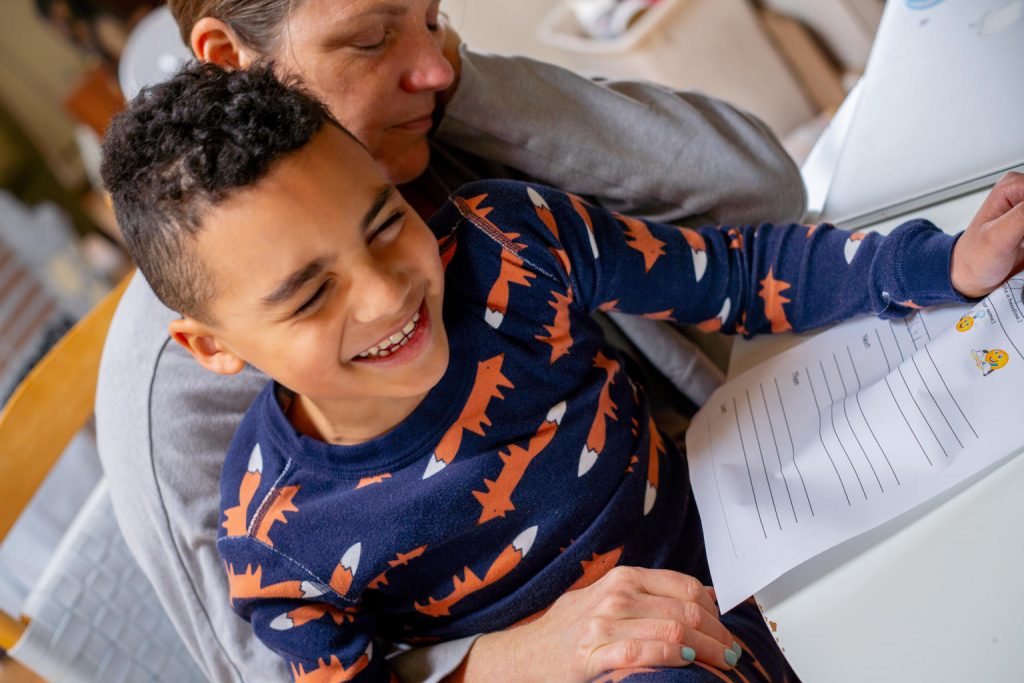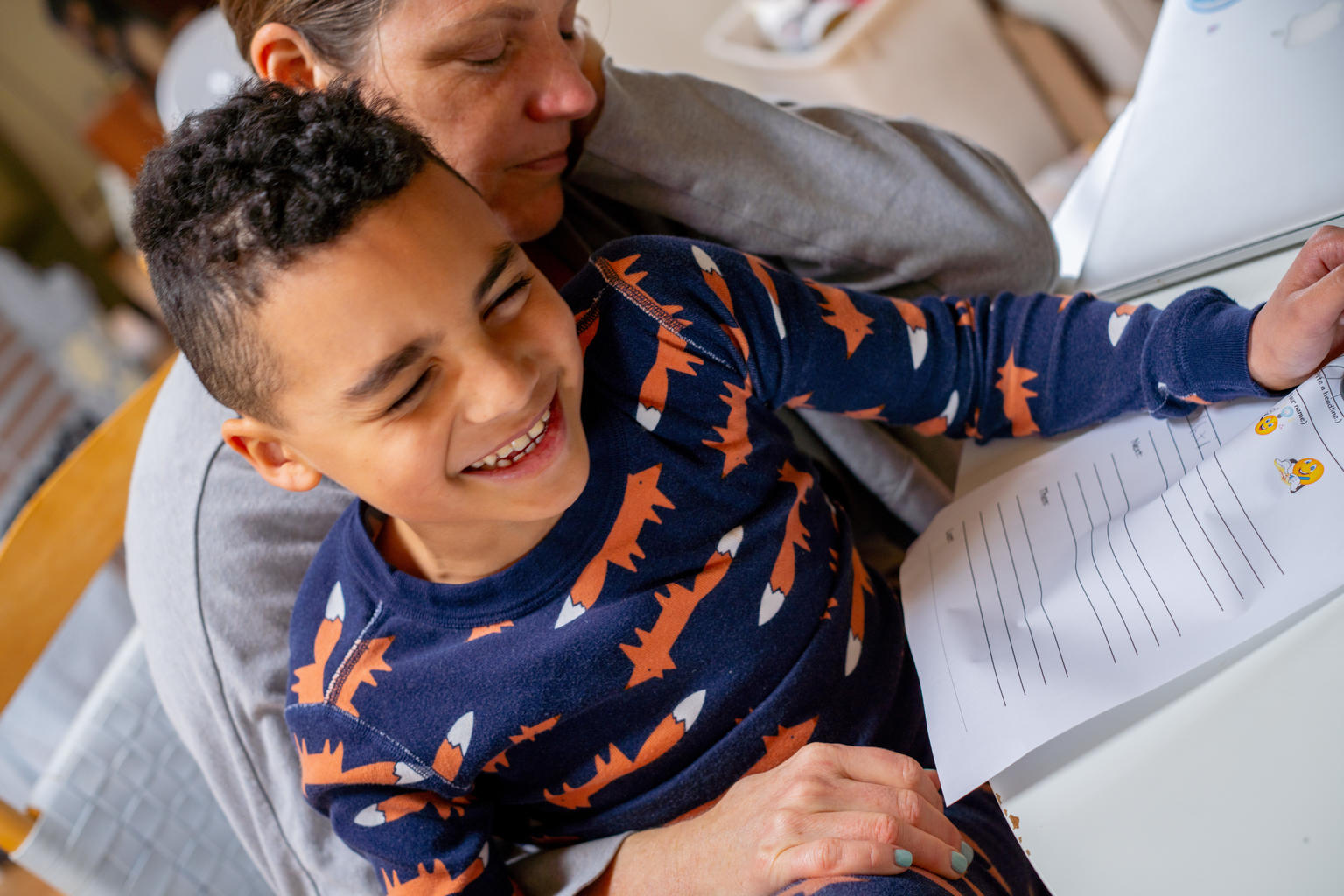 5.

Keep calm and manage stress

Now, this is one you shouldn't forget... Remember to take care of yourself! 

This will help you cope, and it will mean you are better able to support your children.  

This a very difficult time for everyone and these useful tips can help you keep yourself well throughout everything.  
Remember you're not alone

– 

This is a moment of global solidarity

, 

and we are all in this 

together. Whether it's your next-door

neighbour

, or someone thousands of miles away, we're all going through this. 

Stay connected. Try and find people you can speak to, listen to and share feelings with. 

 

Take a break

–

 

We all need to find time for ourselves, whether that's relaxing or doing exercise, try and make a list of positive and 

healthy things you love to do and do what you can to find moments in the day (or evening) to make them happen. For you. 

 

Listen to your kids

–

 

Better understanding how your kids are going will help you too. Be open with them and listen to how they're experiencing this moment. Being there for them like this will give them r

eassurance and support and it'll help you feel connected to the ones you love.