Martin Worth, UNICEF's Head of Water, Sanitation and Hygiene (WASH), is no stranger to humanitarian emergencies, yet the crisis facing the Rohingya refugees is by far the most complex he has ever seen.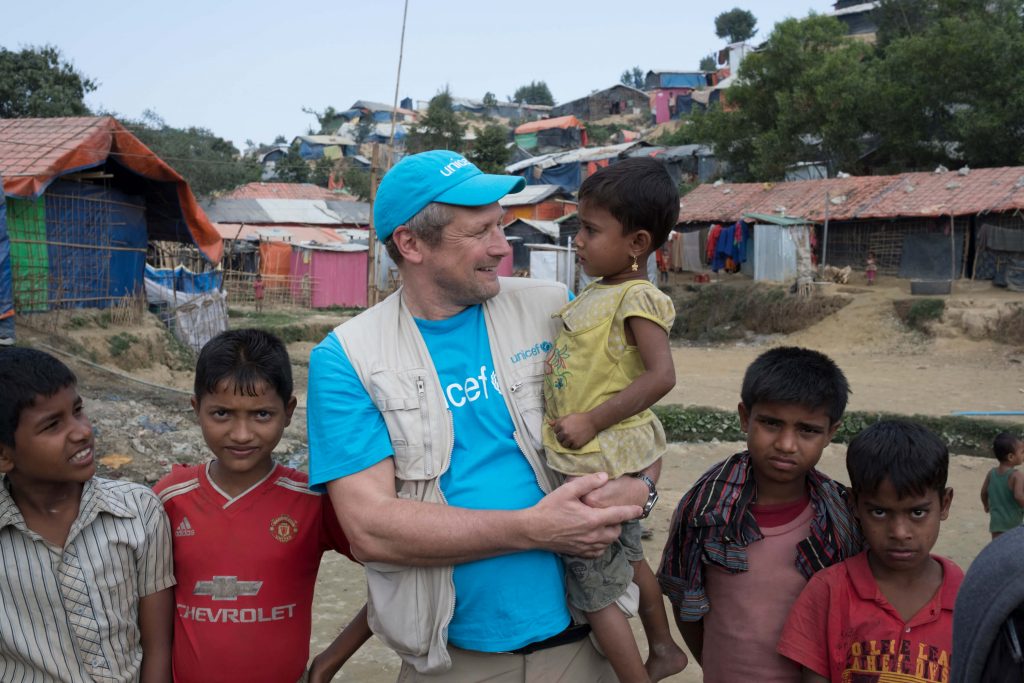 "I've been in some difficult places," he said, "but this could get so much worse. What is already a dire humanitarian situation could become a catastrophe."
Avoiding Catastrophe in Bangladesh
Keeping Rohingya children safe and healthy during the upcoming cyclone season is his number one priority. Bangladesh's cyclone season began in March and, if past years are a predictor, the situation could quickly turn into a crisis, within a crisis. It could deal a brutal blow to the children, men and women who have already endured so much.
In June 2017, Cyclone Mora left 1.3 million children, across the Bay of Bengal, in urgent need of humanitarian assistance. Torrential monsoon rains left children homeless and in need of protection, nutrition and health services.
This included some 74,000 Rohingya refugees who had crossed into Bangladesh, having fled violence in Myanmar.
This year the challenge for Martin will be far greater. Since August of last year, more than a million Rohingya refugees have fled horrific violence in Myanmar and crossed the border into Bangladesh where they are currently living in makeshift settlements in tents or other temporary shelters.
One of the issues is the sheer number of people living in densely packed and squalid conditions.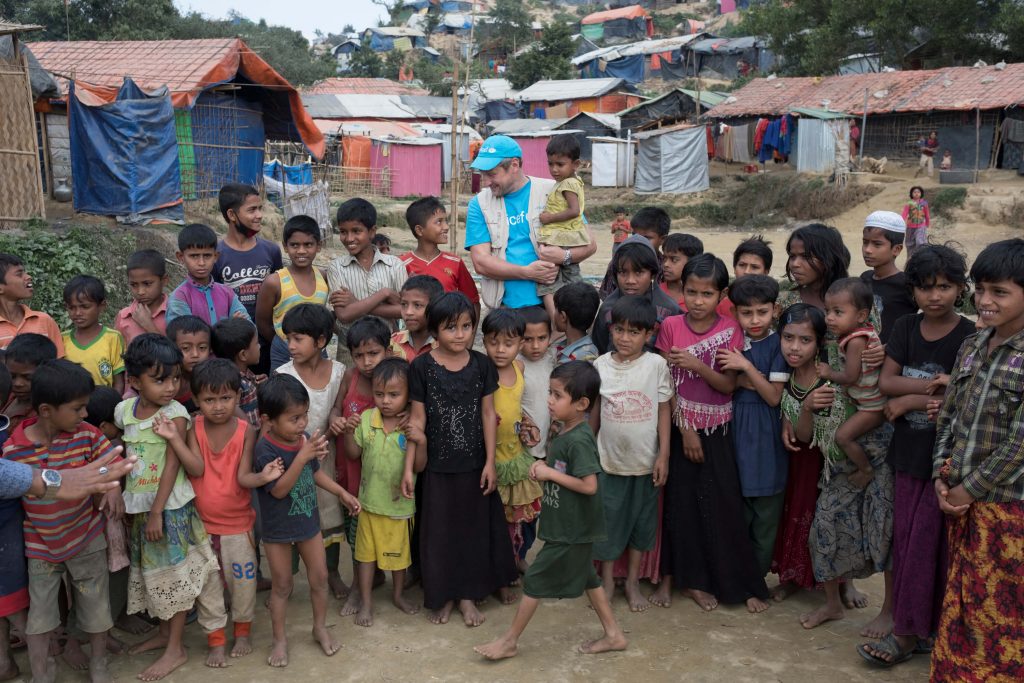 Overcrowded Conditions in Refugee Camps
"Lots of people moved very quickly," Worth said. "Now they are living in flimsy little shacks that are clinging to hills with just blue tarpaulin to protect them from the wind and rain. The conditions are crowded. The potential for disease outbreak is really high."
"I'm very worried," Worth says. "This is going to be a challenge. We have a refugee situation, but with cyclone season now upon us, we could also have a natural disaster on our hands. We are doing everything in our power to be prepared and able to respond."
"I'm very worried," Worth says. "This is going to be a challenge. We have a refugee situation, but with cyclone season now upon us, we could also have a natural disaster on our hands."
Worth says the team is working around the clock to prepare. This includes UNICEF and partners identifying and moving families who are living on or near flood plains and ensuring they have access to safe water and adequate sanitation facilities.
Unicef Is on the Ground Helping
"It's a team effort. We have a strong UNICEF Water, Sanitation and Health Team and we work closely with other UN agencies, NGO and government partners to coordinate such a huge response and provide the humanitarian support that refugees need."
One of their activities is identifying and decommissioning toilets and water points in high flood risk areas.  Diseases like cholera and acute watery diarrhoea can flourish when water is contaminated. "It's not too pleasant to think about but as soon as the faeces start washing around the camp the risk of diseases becomes very high," Worth said.
Cholera is an acute diarrhoeal disease that can kill a child within hours if not treated. The provision of safe water and sanitation is critical to control the transmission of cholera and other water-borne diseases.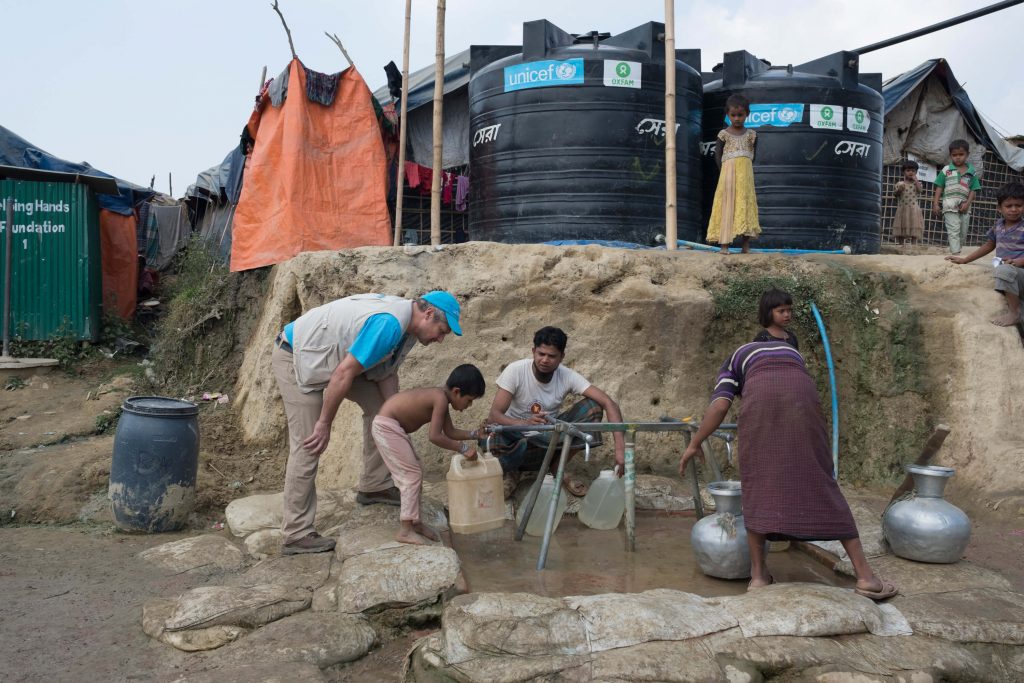 The scarcity of safe water will be an issue for the Rohingya refugees, and UNICEF is scaling up the provision of safe water through drilling wells and increasing water tankering in areas where groundwater is hard to find.
"We attack a problem from all sides," Worth said. "We're improving the water quality at the source and training families at the household level. It's not just building new toilets, it's making sure households understand how diseases spread and how they can prevent this from happening."
"A bar of soap and the simple act of hand washing can significantly cut the risk of disease," Worth said.
Help Those in Need
Clinics and primary health centres in the camps are poised to provide treatment against water-borne diseases like cholera and acute watery diarrhoea. Oral rehydration centres with specially trained staff will be on hand to treat children with oral rehydration salts (ORS) and zinc.
Martin Worth and his UNICEF team are working round-the-clock. "We know how to do this and we're prepared to respond. We always hope for the best but prepare for the worst." he said.