Grainne Moloney
UNICEF Regional Nutrition Specialist in Eastern and Southern Africa
The COVID-19 pandemic has spread across the world. Children and adolescents are less directly affected by the virus, but they are the most vulnerable when critical food supplies and health services become overwhelmed and income levels drop. In Eastern and Southern Africa, countries have rushed to put in place measures to contain the virus. However, fears are growing that the containment measures, along with associated economic impacts, could deepen an ongoing food crisis in the region.
Irish woman and UNICEF Regional Nutrition Specialist in Eastern and Southern Africa, Grainne Moloney has the latest on the situation facing children. 
Children at risk across the region
Eastern and Southern Africa is a vast, geographically diverse region that stretches from the Red Sea in the north to the Cape of Good Hope in the south.

Prior to the pandemic, food insecurity in the region was already alarmingly high, with over 78 million food-insecure people, including over 2.5 million severely wasted children under 5. These are children who can easily die if they don't access treatment. 

Children and families in the region are experiencing food insecurity driven by a number of factors including climatic shocks – Southern Africa has seen intense droughts and Eastern Africa severe floods.

These issues are compounding economic challenges and high food prices, and coincide with the worst desert locust outbreak in the last 60 years.

Predictions vary but at UNICEF, we're seeing estimates that there will be a 25% increase in households facing crisis levels of food insecurity in 2020 and that means a further 25% of children under five years of age facing life-threatening malnutrition.

The situation is so severe, that our teams on the ground are now warning that the unintended consequences of COVID-19 restrictions could cause many more deaths of young children and women in Eastern and Southern Africa as the virus itself.
Tragically, we are already receiving reports of women dying in labour as they can't find transport to hospitals to deliver their baby because of curfews, and a significant reduction in the number of children being vaccinated and receiving treatment for illness as their cares are afraid to bring them to the health facilities for fear of catching the virus.
Health systems at full stretch  
The food crisis in the region is also being compounded by challenges in sustaining child health care services due to the complexities posed by the COVID-19 outbreak. Fragile and weak health systems are overstretched with COVID-19 preparedness and response.
Health workers, many of who have been getting sick from COVID-19, have had to divert critical resources to stem the outbreak. The availability of essential drugs, supplements and vaccines, especially those procured abroad, have been affected by the restrictive measures on international and internal travel.
And within the services that do continue, concerns of getting infected with COVID-19 and misinformation has been keeping people away from getting the treatment or services they need.
According to estimates from John Hopkins University, interruptions in basic life-saving interventions like antenatal care, childbirth delivery care, postnatal care, vaccinations, and early childhood preventative and curative services could lead to more than 69,000 additional children under 5 years of age and 4,200 mothers losing their lives across the region.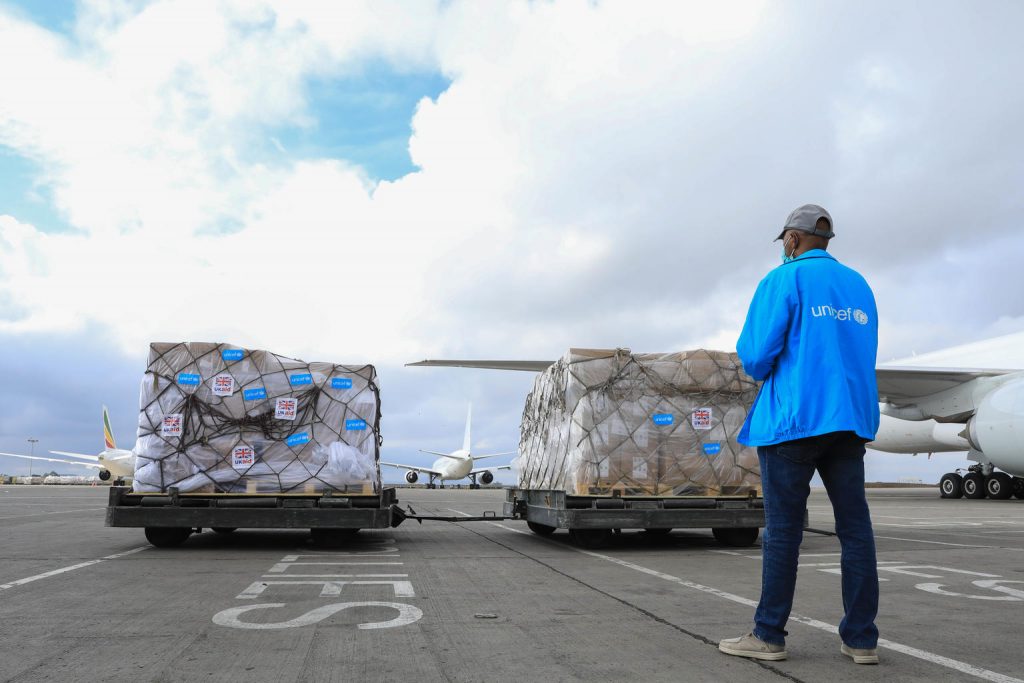 UNICEF delivering at scale
In response to the concerns, UNICEF is preparing to support a further 650,000 children across the region with treatment for severe acute malnutrition, with the total number of children affected raising to 3.2 million across 21 countries this year.
Our teams are working around the clock across the region in some of the most challenging conditions imaginable.
Stay well and stay safe.  
Grainne
If you'd like to protect children from the consequences of the COVID-19 pandemic, please donate to our Emergency Coronavirus Appeal now.