Making a Will is probably one of the most important things you can do. It allows you to take care of your loved ones and share your values by leaving a charitable gift to causes you are passionate about.
Yet research would indicate that approximately only 40% of Irish households have written a Will. This apathy may be attributed to the perception that we 'have nothing to give', as well as not knowing where to start.
Here are some useful tips and key steps which you should take into consideration when making a Will – regardless of whether you are using the services of your local solicitor or if you are opting to make your Will online.
Why Do I Need a Will?
A Will is a legal document which clearly lays out in writing your personal wishes in regards what happens to your assets.
If you don't do this, it will be the government guidelines and rules of intestacy which will apply.
6 Easy Steps to Making a Will
Find a solicitor and schedule a visit to make or amend your Will.
Have the contact details of all those you wish to include in your Will.
Choose your Executors. It can be your solicitor, a member of your family or someone you can trust as the Executor is responsible for carrying out your wishes.
It is a good idea before making your Will online or with your solicitor, to work out the value of your estate. The value of your estate is calculated as the total value of everything you own minus any debts you owe – credit cards, overdraft, mortgage etc. You will need to set aside an amount for your funeral expenses.
List out who you would like to benefit from your Will and state any items monetary amounts you want them to receive. For example you may wish to leave something to your family, friends and loved ones, as well as any charities you are passionate about. By having this list to hand it will make the process much quicker and easier to complete.
Your Will must be signed and witnessed. This should be someone who will not be a beneficiary and inform your Executor where your latest Will is kept.
Can I Make My Will For Free?
Yes you can. We have partnered with two Will making services who work with charities across Ireland.
LawOnLine allows people to write their Will online with the help of their useful will-making templates. UNICEF Ireland can provide you with a voucher code to help you avail of this service for free. Once you enter your voucher code, you can select the type of Will you wish to make, and you will be guided through the process step by step.
The second option is to avail of the Free Wills Network. They have a network of approximately 70 solicitors across the country who have signed up to the Free Wills Network. If the Free Wills Network sounds like the right option for you, please contact Pauline (pauline@unicef.ie), who'll guide you through the process.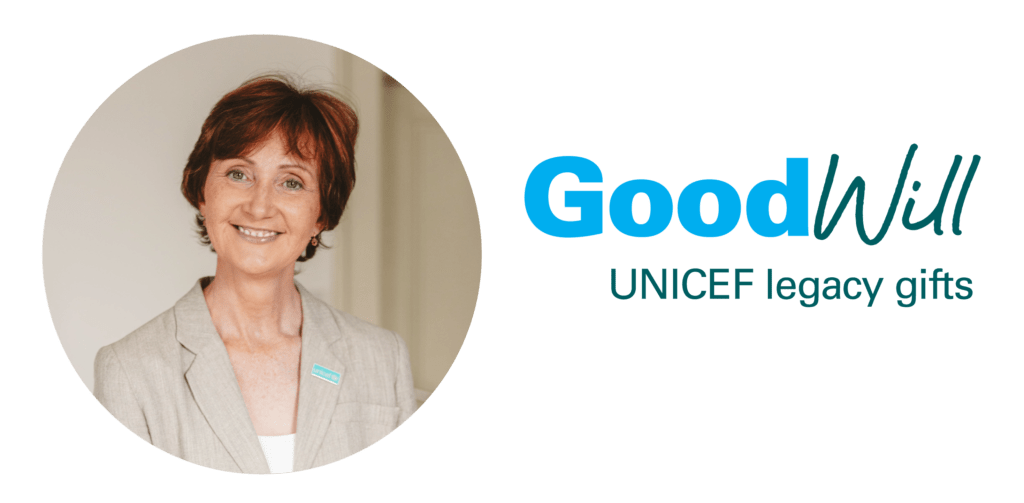 Contact Pauline to learn more
You can talk in confidence to our Legacy Gifts Manager, Pauline who will help guide you in writing your Will and send you information on our free will-writing services available.
Phone: 01 878 3000
Email: pauline@unicef.ie