The aim of this activity is to open the discussion around our own impact on the planet and how we measure our needs versus our wants. 
Discussion: Over the last 50 years the earth's population has doubled, this has led to a 10 fold increase in global demand for energy, food, water and other resources. As a result, the world is facing rapid resource depletion, pollution, environmental degradation and climate change. We are pushing the earth towards its environmental limits. Humans are now consuming more resources than ever before and this is unsustainable. We overshoot our planetary limits in April, meaning we have used up our allocation of natural resources.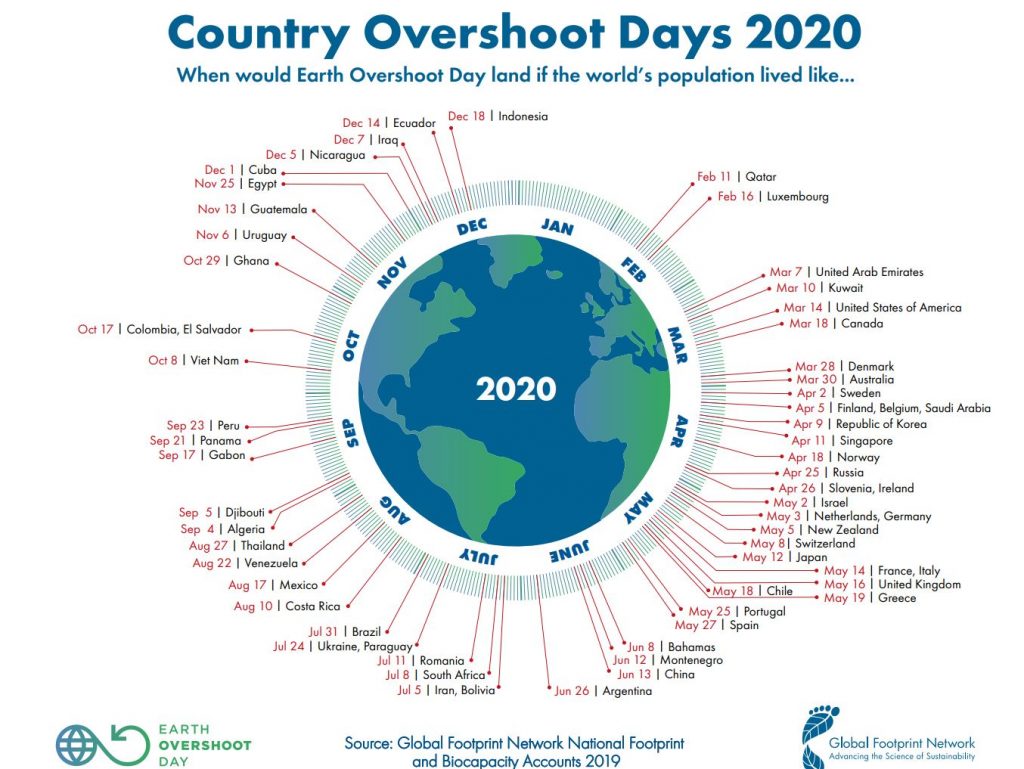 If you were to guess how much of the earth's resources are extracted to meet each persons individual needs each year, what would you guess? Answer- 12 tons of natural resources were extracted per person in 2015. Do you think you would personally exceed this amount?
To turn this around people need to learn to live sustainably, consuming what meets their basic needs for a good quality of life while minimising harm to the planet from pollution, waste and toxic emissions. They need to ensure their consumption does not prevent future generations from meeting their own needs, by ensuring the planet can regenerate.
People must also buy responsibly ensuring that the choices we make do not harm other people and their way of life. Economic globalisation has enabled producers to move manufacturing to places with cheaper labour and lower environmental standards. Which in turn makes their product cheaper to make and more affordable to buy. Consumers need to be aware that the price does not always equal the true cost to people and the planet in producing it.
Responsible consumption means, that what we choose to buy or use is good for the planet, the economy and for society.
How do individuals become responsible consumers? We can start by asking ourselves are we buying what we need or what we want.  Take for example your mobile phone, is it a need or a want?
Activity: Walking debate "Is our mobile/smartphone a need or a want?"
Step 1: Divide the room into two halves. One half is defined as "I need this" the other half is defined as "I want this".  Ask participants to go to the side that represents their view and take turns debating why. Remind the group to be respectful and listen with the intent to understand the other's point of view.
Step 2:  After the debate, ask participants, "If the phone is a need, as a responsible consumer have you taken into account how it was produced?"  What materials went into the product, what waste was generated and how were people affected by its production (both through the supply of goods and in the manufacturing of the product). Can you lessen the impact in any way?
What is the environmental impact?  In the EU, around 211 million smartphones are sold annually. A 2019 study stated that the annual climate impact of all EU phone stock was 14.12 million tonnes of CO2. Is your phone modular, do you repair it instead of replacing it? Do you recycle your phone at the end of its life?
Are they ethically made? Cobalt is used in the rechargeable battery of your phone and or laptop. It likely comes for the Democratic Republic of Congo (60% of supply) where children living in poverty are exploited and forced to work in harsh conditions to mine the cobalt. What is the companies supply chain management like? Check out your phones ratings with this guide or use it for your next purchase.
Group Work:  Sorting our Needs from our Wants
Step 1: Brainstorm – Ask participants to think of all the different products/consumer goods they buy, use or consume in a month. Think: essential clothes, non-essential clothes (fashion purchases) phone, computer, take away, crisps, sweets, drinks, cosmetics, medicine, hair and beauty products, shoes, entertainment, music, paper, disposable items hygiene products. Write the list on a whiteboard or flipchart.
Step 2: Small groups- Give each group a large piece of paper and ask them to divide into four sections or equal boxes. Ask them to list the items listed into a needs (top left) wants (top right). Then ask them to list the essential items they would consume or are unable to go without p(consumer staple, bottom left) and (bottom right) things you like but could go without (luxuries).
Step 3: Reflection- Discuss the outcome of the two activities. Ask participants if needs and wants are different for people around the world? Do our needs supersede the needs of others on the planet? Do our needs exceed the planetary boundaries for a sustainable planet? What actions do or can we take to ensure our choices are more sustainable?