A girl's journey from severe acute malnutrition to recovery in eight weeks.
Aweil, South Sudan – Thursday is not admission day in Gabat nutrition clinic, but Einas knows that her baby girl needs help. She takes a seat on the large plastic-woven mat, laid out in the shade of a gigantic mango tree. Einas is surrounded by pregnant and breast-feeding mothers who have 'their' day at the nutrition clinic.
This young mother cradles her pride and joy in her arms, nine-month-old Amira, meaning princess, not knowing if anyone will help her. "Look over there," says UNICEF nutritionist Jesca Wude Myrue. "That girl is severely malnourished and needs help now."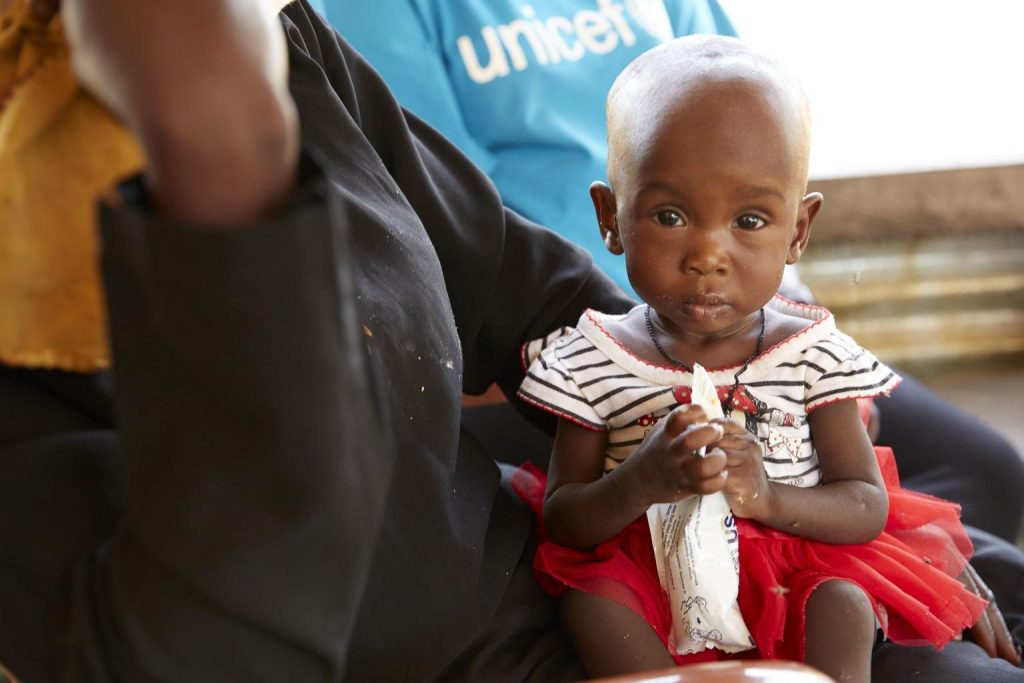 Jesca walks over and squats down to meet the child's eye-level. She starts talking to Einas while gently touching Amira to quickly assess the situation. Measurements of Amira's mid-upper-arm circumference shows 9.9 cm and the scale 4.9 kg – confirming what Jesca already knows; the girl is severely acute malnourished.
Einas explains that Amira refused to eat and there was no way she could force her. What was causing it she doesn't know. Amira was getting thinner by the day. "She would be sitting tired, without eating or drinking and we were all worried. My husband doesn't live with us, but he would be constantly on the phone asking, 'how is my daughter'?"
The little girl was immediately admitted to the UNICEF-supported outpatient therapeutic programme in Aweil. While the actual treatment of the acute malnutrition is happening at home, Einas was given a week's ration of ready-to-use therapeutic food (RUTF) which she slowly hand-feeds Amira three times a day. Every week, Einas returned to the clinic for a progress check-up of Amira before a new RUTF rations was provided.
Peanut Paste – A Life-Saver in the Fight Against Hunger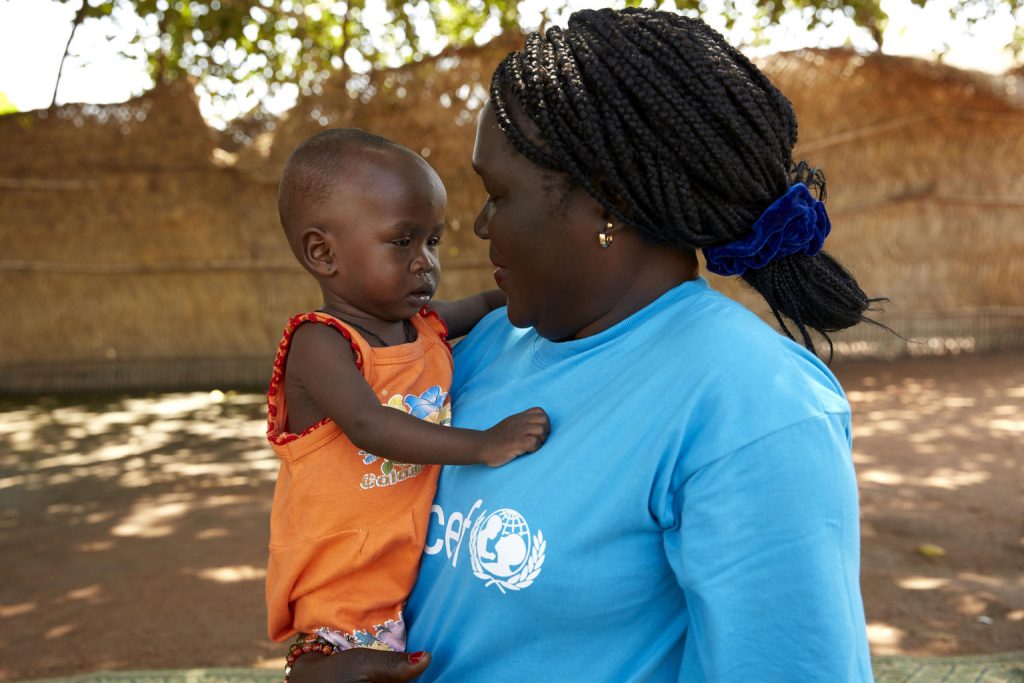 RUTF is a peanut paste enriched with vitamins and minerals specially designed for treating children suffering from acute malnutrition. It has a sweet taste, making the 'medicine' more inviting for the children who often have very poor appetite.
Normally, it takes 6-8 weeks for a child to regain their weight. Einas was thrilled to see how the peanut paste slowly morphed her little princess into her old self. Every week, her arms would get a bit thicker, the cheeks chubbier and smiles even more frequent.
Eight weeks of peanut paste (RUTF) has done the trick and Amira now weighs 6.5 kg, her mid-upper-arm circumference is 12.5 cm and she has been discharged from the nutrition programme.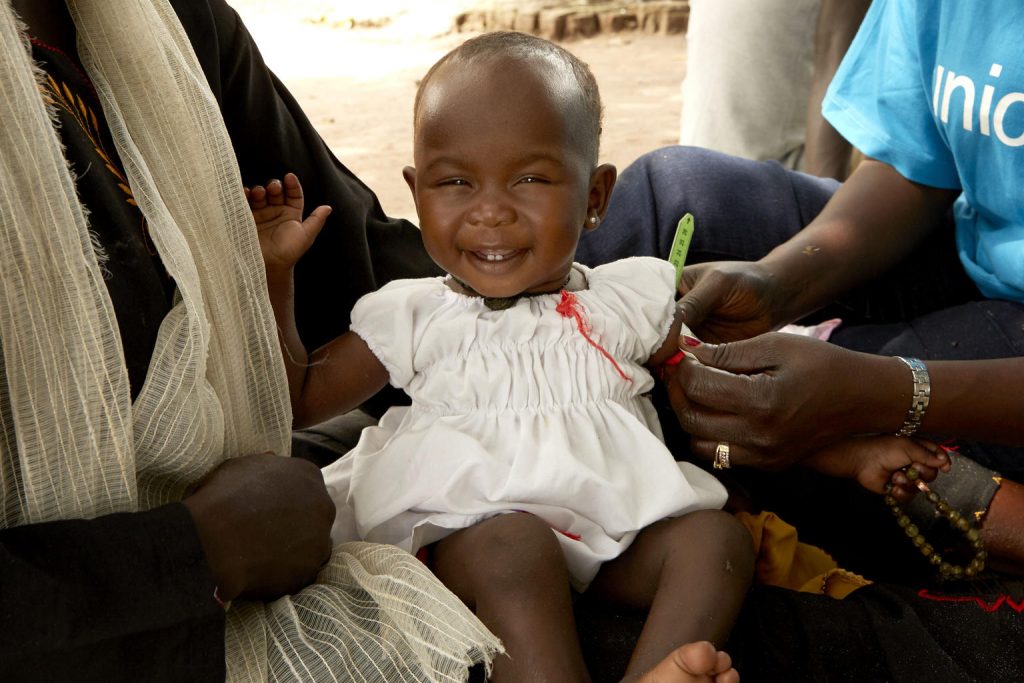 "I'm so happy, I even thank God before going to sleep at night," says Einas. Her smile reaches her eyes when she talks about how much Amira has changed over the past eight weeks.
Road to Recovery
Before, she wouldn't have the energy to play, now she is everywhere. She loves playing with the puppy. Amira will play with her ears until the puppy tries to nip her, but when we take her away she will cry and try to go back to play with the puppy," Einas says laughing.
Amira has also started talking since UNICEF first saw her at the clinic.
"Look, when I'm talking to you she is listening. Even when you're asking her how she is, she responds by saying 'eh!', 'how are you?', 'eh!'"
Amira has even started talking back.
"[When Amira is throwing ground nuts around] her grandmother will ask her 'why are you wasting the groundnuts'?  But Amira will simply ignore her saying 'no, no grandmother!' and continue wasting the groundnuts."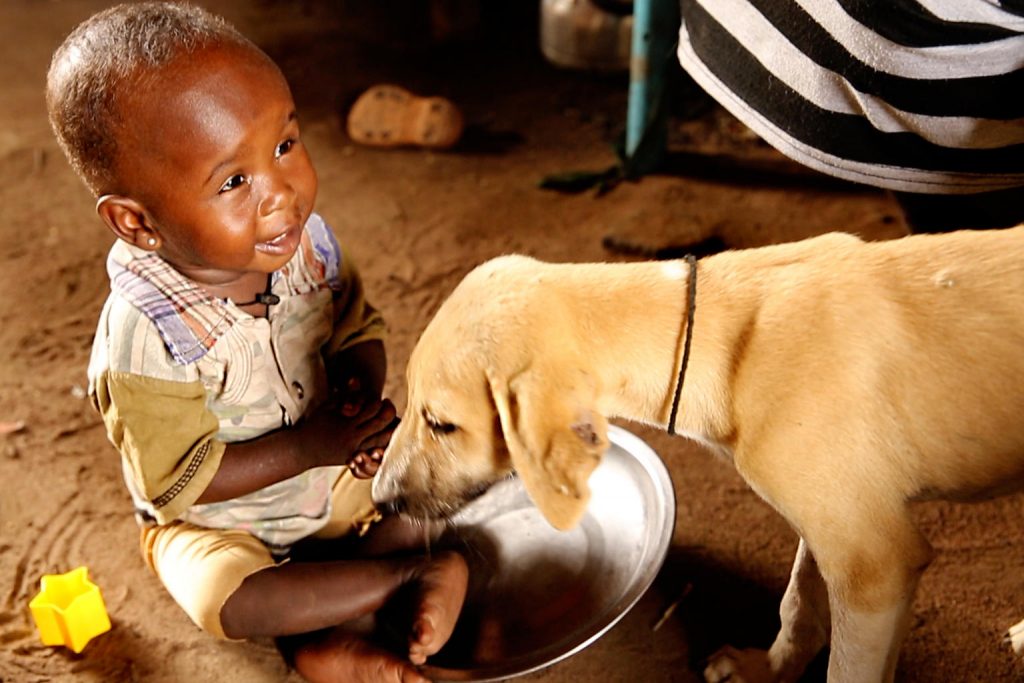 Einas has also noticed how Amira's face and skin look fresher than before. When children are suffering from severe acute malnutrition the skin often becomes pale. If you pinch it, it will not bounce back as fast as normal. The hair often goes thin and beings losing its colour. In Amira's case, she hardly had hair when she was admitted. Now, hair black as charcoal is growing on the young girl's head- just like it is supposed to.
Fighting to Protect Children From Malnutrition
Severe acute malnutrition (SAM) is a very serious condition, which can lead to death because the body doesn't have the capacity to fight even simple diseases.
In South Sudan, 260,000 children under five years of age are suffering from the condition, in 2019 only. As of July 2019, UNICEF South Sudan has treated more than 144,000 children with SAM. Over 90 per cent of them have recovered.
This tells us that if UNICEF can access the children, most of them will survive and recover – just like princess Amira.
Please donate now and help save more children from malnutrition.